LITERARY LYONS -- I've always held in special reverence those who came, not a full generation or many generations before me, but those of, say, a half generation or so. That is, those who were a few years ahead of me in high school, the ones who left the marks to aspire to in the classroom or on the football field. The big brothers or young uncles I never had, especially those who blazed trails. In the fields of popular entertainment this would include, for someone of my era, such mavericks as the Kingston Trio, the Smothers Brothers, even Bob Newhart. On the newsstands, such trailblazing young adult editors as Harvey Kurtzman and Forry Ackerman were printing Mad magazine and Famous Monsters of Filmland for us nerdy teenagers. In the world of magic magazines, Annemann's The Jinx was well before my time, and I would have to wait for Karl Fulves's Pallbearers Review to enjoy first-rate material from a contemporary editor. Ah, but there was one just before my time, that was blazing trails with avant-garde cover art, whimsy, recreational mathematics, puzzles, and card tricks that were fascinating whether or not one had an inclination to perform them. This was P. Howard Lyons' Ibidem, from Canada, which first appeared in June 1955. At ten or so, still investigating the apparatus that constituted my first Mysto magic set, I was too young to appreciate (or even be aware of) the awesomeness of Lyons' quarterly melange of groundbreaking ruminations. It would be a few decades before I would lay eyes on it, first via the twenty-four facsimile issues that Karl Fulves reproduced in the seventies, and finally via the three beautiful hardbound volumes published by Richard Kaufman and Stephen Minch. This month, under the auspices of David Ben's MCA stewardship, Stephen Minch and Allan Slaight made the pricing irresistible to MCA members, and so I finally have these volumes before me the way they deserve to be enjoyed.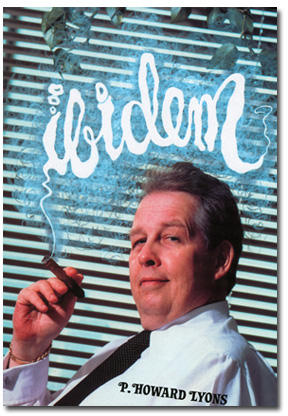 Before Pallbearers, before Epilogue ...
These hefty works contain not only the full thirty-six issue run of Ibidem, but also Aziz (Lyons' planned sequel to Ibidem) and beyond, as well as samples of additional Lyons products. (He simultaneously published a science fiction fanzine also called Ibidem.) The cover art (hailed by Milbourne Christopher as "grotesque, satiric, and fascinating") of Pat Patterson (aka Mrs. Lyons) is included in full color plates, and all the material has been typeset to make it easier to read than the original rough mimeographs. With the crisp new text, Pat's redrawn artwork, first-time photographs, and professional layout technique, the makeover is stunning. Richard Kaufman, Stephen Minch, and Max Maven share the extensive editorial credit. (Max compiled all the Aziz and beyond sections, and he touches upon all the original issues as well.)
And then there are the contributors. Has there ever been a more influential issue of a magazine than Issue 3, in which Stewart James and P. Howard Lyons provided thirty-six methods for the Open Prediction (and in which James alluded to his holy grail version called Fifty-one Faces North)? Volume One contains the original issues 1-16, Volume Two issues 17-28, and Volume Three issues 29-36 plus all of Aziz and beyond. In addition to a wealth of material from Stewart James and Ed Marlo, there is plenty more from the likes of Mel Stover, Amazing Randi, Tom Ransom, Martin Gardner, Alex Elmsley, Roy Walton, Lin Searles, Peter Duffie, Allan Slaight, and others, all at the tops of their games. Although there is plenty of material to baffle laymen and magicians alike, the hallmark is just how much fun the material is. Lyons' introductory remarks in each issue should whet the appetites of the most jaded conjurors, and the tricks and puzzles themselves rise to his estimation. These books should provide years of pleasure.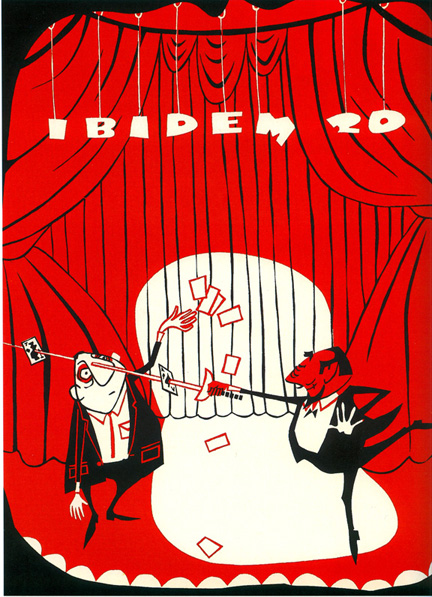 A Pat Lyons cover.
The card material is all over the map, from difficult sleight of hand (did I mention there was a lot of Marlo?) to self-working wonders. There are additional Open Prediction studies, Oil and Water studies, faro studies. There are more mathematical equations than in any book I've seen before. My own brief perusal of the contents retrieved several self-working items of interest, namely P. Howard Lyons' Out of This Mind, Tom Ransom's Brown Study, Don Tanner's Royal Box, Alex Elmsley's Choosy, and Ken Beale's Natural Scent. That I might gravitate toward such easy material would not have met the approval of my old friend Lin Searles, who favored the directness achievable with sleight of hand. In a brilliant piece of satire, Lin revealed his feelings, printed below with permission of Stephen Minch:
ALL THE SAD YOUNG CARD MEN
an unpopular history
of modern card magic
In the 1930s we were all doing Subtle Moves; and when you used the phrase in speaking you made sure that the initial letters rolled off your tongue in full, rounded capitals. It was the era of Annemann and More and ex cathedra pontifications by magical high priests to the effect that Magic was an Art.
Magicians boasted of not being able to do sleight of hand, and possession of a copy of Erdnase was considered as somewhat subversive. You bought a copy of Expert at the Card Table as though it were a black market item, and it was almost worth your I.B.M. membership card to be caught with one. In an earlier age all copies would have been publicly burned, with a combined committee of S.A.M. and I.B.M. vice-presidents supervising. Erdnase, it has been recently discovered, came to a bad end -- no doubt much to the satisfaction of the remaining Subtle Movers.
The theory behind Subtle Moves was simple. Instead of controlling a card by one neat and quickly executed sleight you employed several complicated maneuvers, most of them designed to tacitly demonstrate to the spectators that you couldn't hold onto a deck of cards if they gave you a bushel basket. It was all subtle as all get-out, and most of us really couldn't.
After R.W. Hull brought out a trick called "Mental Discernment," we decided that from that time on, our spectators would just think of their cards. Card magic became a combination of an abortive sort of guessing game, non-Euclidian geometry, and Pascalian permutations. If you lost count you could never find the card.
The guessing part usually was based on subtle questions ("Your card was a cherry-colored card, wasn't it?") along with strategic placement of the five or six cards possibly selected. Depending on the answers wrung from your victim, you would discover his card reversed, on top, at the bottom, in spelling position, next to the reversed card, at a number corresponding to its value; or at a position derived from adding the digits of the reversed card and the bottom card and the top card and the card in spelling position and the card next to the reversed card and the value of the mentally selected card.
We were pretty damned ingenious in those days.
Later we discovered that after ten minutes of questions and dealing, some spectators were obviously yawning. The reason, we deduced, was that the spectators were suspecting chicanery because we were handling the deck. And the answer was of course obvious. Magicians started going around carefully not handling decks; and hundreds of decks lay untouched on P&L tables, gathering moss on their north sides.
The fly in the diachylon was that the number of card tricks possible with an untouched deck was limited. A few magicians developed understandable cases of schizophrenia by trying to do Subtle Moves without touching the deck. The only answer was to handle the deck, but make the spectators believe that you didn't. For a couple of years it was almost illegal to conclude a description of a trick without saying, "The spectator will swear afterwards that you never touched the deck."
It didn't work out quite that way. Most spectators forgot to remember to forget that you touched the deck. They simply ignored the whole dreary business, and it took quite a bit of pumping to get them to even mention the trick. The conversation usually went like this:
"That was pretty unbelievable, wasn't it?"
"Huh?"
"The deck -- you remember I never touched the deck."
"You didn't?"
It was discouraging, but that was when the world was very young and playing cards had backs on one side and faces on the other.
Lin Searles
***
Hardbound, three volumes, 1070 pages in all, $60 each from Hermetic Press.