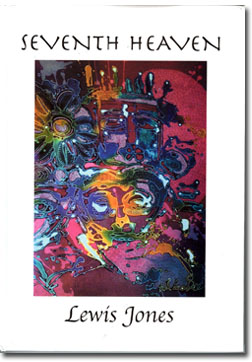 108 Secrets
BRIT LIT -- Back in 2001, I was sharply chastized for mentioning Lewis Jones, then a little-known British card genius whose manuscripts were closely guarded by those fortunate to have acquired them. Mr. Jones broke out of his relative obscurity via his large hardback collaboration with Jack Avis, Ahead of the Pack (reviewed here August 2002). And now comes a handsome whopper of a book, Seventh Heaven, for which Lewis Jones has sifted, sorted, and re-thought over 100 tricks and moves from seven earlier manuscripts (Imp Romp 2, Shampagne, The Spring of 52, Con Sessions, Lusions, Counter Feats, and Cardiograms). What a treasure. For those unfamiliar with Lewis Jones, he is an original of the stripe of Jerry Andrus, Simon Aronson, and Lennart Green. In Jones' case, his originality lies in a depth of thinking that leads to why-didn't-I-think-of-that sleights or to devilishly clever mathematical (often self-working) mysteries. Jones' trick descriptions will tantalize you. They read like dealer ads, yet, unlike many dealer ads, they deliver on their promises.
To mention a few: "Mint Sauce" is a self-working game of chance that will relieve a spec of his loot yet leave him laughing. "Aces in a Hurry" makes you look far more skilled than you are. "Six Billion to One" is a grand takeoff on Curry's "A Swindle of Sorts." "Deeper, Deeper" is a self-working con of the highest order. (Pit Hartling recently explored a different use of this conceit.) "Houdini's Hand" is a delightful seance number that uses Jones' "Invisible Cull" (a sleightless cull, also revealed). "Memory Deck" is the easiest memorized deck you will ever find, and it comes with two excellent effects. "Snibbets" will teach you how to calculate back and forth with a Si Stebbins deck. "DOP" is a multiphase red-black divination that keeps on building. "Demolition Derby" is a playlet involving Billy the Kid and Doc Holliday in a card game, but you wind up naming a card pocketed before it all began. "Twin" will find favor with fans of the "Epitome Location": it's the easiest, fastest way to clock a deck yet devised. "Ultra Red" is a fascinating routine to do with your favorite medium. But even it isn't as fine as "Thimble": A spec selects any card from a deck and returns it. The deck, which may be shuffled, is replaced in the case, and a thimble is balanced on the case. The spec takes case and thimble to your medium, who instantly knows the name of the selected card.
This book is a steal at 28 pounds plus 5 pounds p&h. The stats: 10 by 7 inches, 377 glossy pages, with 108 tricks and utilities. From Lewis Jones at 23 Woodbastwick Road, London SE26 5LG U.K. Email Mr. Jones at lewis.jones@ukonline.co.uk. Visa, Mastercard, and Eurocard accepted.
March 2004
Ah, March, when your longshot in the office NCAA basketball pool just might pay off this year. Oops--too late--my longshot Xavier team just fell to the evil Duke dynasty. Wait til next year. Meanwhile, to magic. This March we discuss a fabulous new book from Lewis Jones, a Del Ray dvd, Indiana University appearances by Persi Diaconis and David Copperfield, MAGIC Live II, and just a little more basketball.
MARCH MADNESS -- Here in Indiana, March is traditionally a month that celebrates basketball players, not conjurors. This March those roles essentially reversed, as Indiana University (whose basketball team suffered something of a rebuilding year) played host to two top-ranked magicians, Persi Diaconis and David Copperfield. Professor Diaconis (in his alter ego as an acclaimed scholar) presented two public lectures, "On Coincidences" and "The Search for Randomness." The lectures, delightfully low tech with hand-printed transparencies (no PowerPoint!), were wildly popular. Faculty and students jammed the lecture halls to beyond standing room only: some students squatted on the stage behind the lecturer. The talks, on demystifying chance, captivated the eager audiences. A week later, David Copperfield visited IU with a delightfully high tech program. Missing from this year's show were any illusions involving sexy female assistants, close-up tricks, or solo spots by Chris Kenner. No one noticed: David is the show, and when he offered to impregnate a young lady from the audience, all those hands waving in the air were serious. (Despite its "theme," the trick was tasteful, funny, and a fooler.) I still have no clue as to how David vanishes, along with an "audience member" (whose presence strikes me as the worst writing in magic), from a platform cantilevered out over the audience. And the production of an automobile, in a space surrounded by spectators, is breathtaking. All in all a fine show and also roundly appreciated. As I began my walk back to my automobile through the dark campus, the three tractor trailers that transport the Copperfield show were already rumbling and ready to roll. Now a talk on what that life must be like would no doubt also fill a lecture hall or two.
THE BEST IN SHOW -- When someone of the experience and integrity of Max Maven calls a magic show "the best show I ever saw," I take note. This is what Max did in the January cover story in MAGIC on the late Del Ray, and it only added to the praise I've seen accrue, from afar, re Del Ray over my lifetime. Just what did this guy do? He did magic with electronics? What does that mean? Fortunately, thanks to an hour and 25-minute dvd available from Tom Craven, those questions are answered. Here is Del Ray performing a complete set of close-up magic for a group of laymen, taunting them throughout with a (very worn) fifty-dollar bill should any of the tricks fail, and doing magic I never thought possible. He rolled dice and called not only the total but the spot distribution (or at least his toy bird called it), he stacked dice that also vanished and reappeared, he did poker and blackjack deals, he got laughs, he did miracles. And he was a master in control of his audience. The image quality is very poor, but sufficient to see and hear what is going on, right down to the spots on the dice. This is one of the all-time essential dvds. $25. Contact Tom Craven at VIPMagic@aol.com.
LAS VEGAS II-- Just when you think you're out, they keep pulling you back. Although many of us have already blown our disposable cash on the WMS visit to Las Vegas in January, Stan Allen has taken leave of his senses again and announced the MAGIC Live Lucky 13 convention, to take place August 22-25 at the Orleans. Check our August 2001 sheet for a review of the last MAGIC Live. The first time around, Stan could have done just about anything and have been a success. This time he has to top "the best convention I ever attended," according to many. Not to be missed.
IT'S NOT MAGIC BUT -- As Michael Close would say. On the other hand, maybe it was magic. Re basketball, my Little Egypt home town team of Cairo, Illinois, just completed its first undefeated regular season, 31-0, and my college alma mater, the University of Illinois, just won its first outright Big 10 championship in 52 years. Both teams were fun to watch, and I extend congratulations to the players, coaches, and fans. (P.S. For you guys in the vicinity of the University of Illinois, the 27th Central Illinois Magic Get Together will take place there on April 24. The night before will feature an extra-pay workshop by Steve Draun. Hope to see you there.)