BY THE NUMBERS – Whenever I watch Dani Daortiz or Juan Tamariz work, I quickly lose track o who owns or has shuffled the decks in play. These Spanish wizards exploit my confusion and fool me as few others can. Such is the case with Dani's latest, ACAAN Project Chapter 5. Dani distributes the cards from a shuffled deck to six spectators, the spectators freely shuffle their cards, one looks at and buries a card, the cards are reassembled (with even more shuffling), and four cards are selected. The total of their values locates the freely thought of card! The constant shuffling of all the cards makes this a miracle.
As with most of Dani's productions, the is not a single trick but a collection of new weapons: controlling the magic via your attitude, counting by groups (a dead easy way to move a card from a known location to any other desired location), how to manipulate the spectator's focus by asking questions, how to control a thought of card, how to move a card from, say, 20th from the top to 20th from the bottom, exploiting multi-information, and more. At $9.95, this instant download from Penguin is an incredible bargain.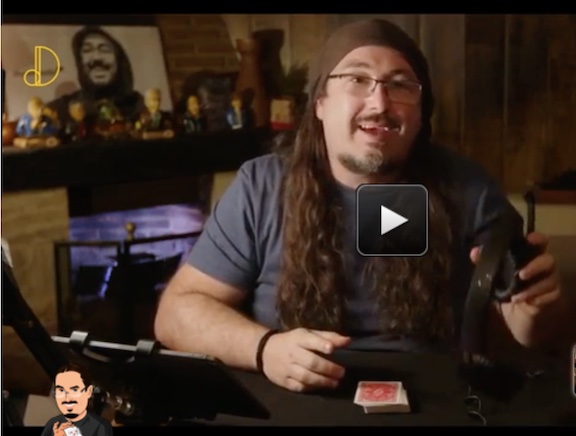 I was previously unaware of Dani's overall ACAAN Project. The entire set contains 12 chapters and costs $90. Five chapters have been released so far, and the rest will appear monthly, beginning July 5. If the remaining 11 chapters are as good as Chapter 5, this will be a colossal treatise.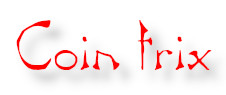 NOT SO HEAVY METAL — I hesitate to review a trick I don't like 100 percent, but will do so here because I am 50-50, and you my like it for the half I enjoy snd the other half may not be a factor for you. The trick is a coin vanish from Vanishing, Inc. called Catch. The trick employs a clever gimmick that allows a seemingly bare-handed vanish of borrowed coin. On the negative side, you must first attach the little gizmo to your watch band. Mine won't fit, merely a personal consideration, but it matters. Second, it takes a bit of juggling to get the gizmo to engage the coin. Easy for the guy on the instructional video, but not for me so far. My trick is the Coin to Floor trick. Ah, but once the gimmick has control of the coin, you are master of the vanished coin. You can make it appear or stay gone at your pleasure. It's very clever and you can now perform the trick as the magical appearance of the coin. Even I can, no problem. To sum, a well-made gadget and an excellent teaching video, but it will take some practice. $24.95 from Vanishing, Inc.
The Catch gadget reminded me of other coin vanishes I have enjoyed oner the years. The go-to coin vanish for most magi is the Raven. Even David Blaine uses it. I bought mine long ago from Chazpro, and it is now available from Penguin and elsewhere. Recommended if you want a challenge coin vanish.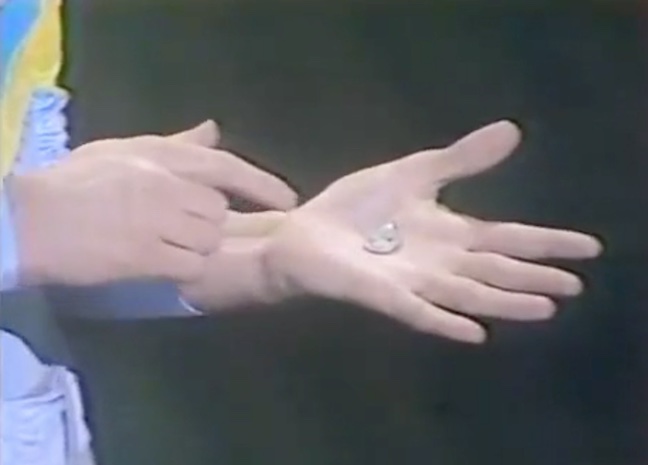 Fickle Nickel is the John Cornelius one-hand vanish of a nickel that Doug Henning used to launch the entire modern era of magic. None of the other vanishes look this good.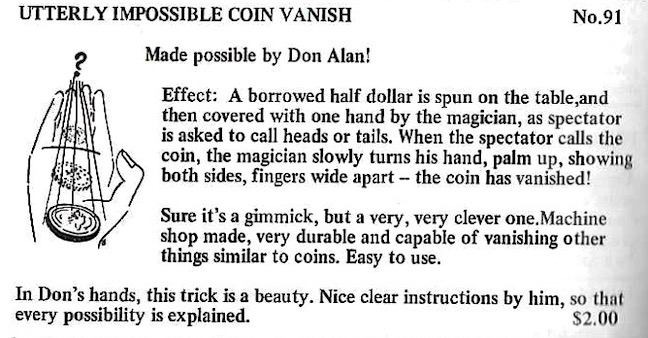 The Utterly Impossible Coin Vanish "Made Possible by Don Alan" was a fun product from Magic, Inc. You could spin a borrowed half dollar, slam your hand on it, and slowly turn your hand over to reveal that the coin had vanished. Best part: the vanished object did not have to be metallic, which should puzzle the Raven crowd.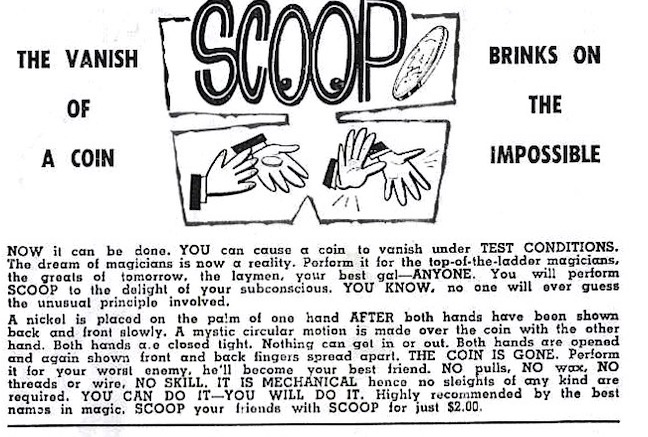 Scoop (The vanish of a coin brinks on the impossible) was a dandy Ken Allen trick. You placed a nickel in your palm, waved your other hand over it as you closed your fingers, and then showed both hands empty. I used this a lot as a kid and it is my favorite of the bunch.
My dad borrowed a dime, placed it in the middle of a handkerchief, folded all the corners onto the dime, then slowly opened the the handkerchief as the dime faded away. He always kept the dime. This looked great, and I don't know where he learned it. (Dad never knew that it was in Volume One of Tarbell.) He impressed me greatly with that trick and with the Wizard telephone stunt.
All the above use gimmicks of some sort. The best sleight of hand version (or at least I think it is sleight of hand) is Mickey Silver's retention vanish. On multiple occasions i have seen him trailed by a large posse of well-posted magicians as he demonstrated, for up to 45 minutes, his variations on the move. This looks like trick photography.
It is amusing to read the "catalog speak" for these routines, with emphasis on what the trick is not: No magnets! No pulls! No threads! No wax! No skill! Whichever element is left out of the ad, that is the likely method.

I should begin calling this section Emerging from Quarantine. The Magic Castle is now open with live magic, and the Zoom heroes who have entertained us for over a year are turning their attentions to live opportunities. This month I have nevertheless continued to enjoy a virtual show from Jeff McBride , get togethers with Mac King, and gold from the AMA.
WHO WAS THAT MASKED MAN? — Why, none other than Jeff McBride, creator and star of one of the most iconic acts in magic and professor extraordinaire. With MagicQuest, Jeff presented (several times in late May) a ticketed tour of his home and his life. The story emanated from his Las Vegas McBride House of Mystery, guarded by dragons, stronghold of his Cabinet of Curiosities and trophies as diverse as Fool Us and the Devant Award.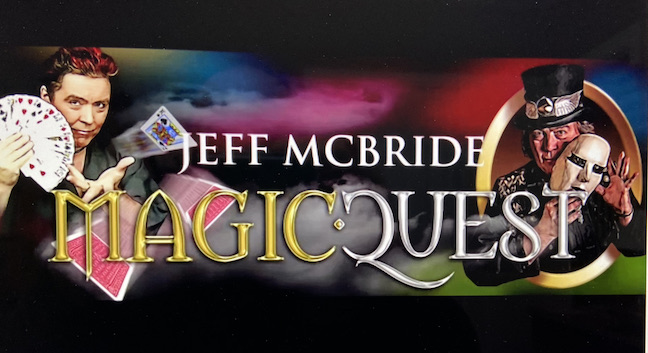 David Copperfield announced the magic show itself, and we were off on wonders involving masks, card scaling, cards from mouth, knots from silks, card fans, a fire book, Tarot cards, card manipulations, a coin roll, a floating finger, the Cross of India, a flowering bush, water bowls (The Rainmaker), wild cards, a book of heroes (Spiderman was selected and dramatically perceived), and a sweet closer with tissue paper hearts.
Along the way we learned of Jeff's childhood photos and magical interest, martial arts, The Golden Book of Magic, mime school, working for Flosso, visiting Japan, opening for Diana Ross, the move to las Vegas, and more, the complete circuit from the early photo doing magic in his living room to back to his living room here and now, for us. It was a grand tour, and enviable life.
BACK TO TON'T EVERYBODY LEAVE — Mac and his buddies resumed with a 5/25 visit from Asi Wind, genius magic creator who began his performing career in the U.S. in the humble birthday party show disguises of SpongeBob SquarePants and Batman. Like Derren Brown, Asi is quite the artist and shared impressive portraits both completed and in progress.
Episode 18, I think, reunited Mac, Jacob, Vinny, and Michael in person at Mac's house (plus a funny cameo from Nick). Special guests were the Evasons, the act that fools me more than any in magic. Best nugget: Michael Goudeau revealed that, when he and Lance were working the Follies twice nightly for two years solid, they would arise at four in the morning, drive several hours into the mountains to go skiing, then back to Las Vegas in time for the shows. Ah, youth.
Everyone returned (remotely) for Episode 19 with John Carney. John shared the ghoulish story of Faucett Ross's desire to be buried with his cat Tuffy. David Sandy was a nearby witness to this ironic tale of murder. And speaking of gunplay, the boys shared a great video of Sammy Davis twirling a six-shooter. Impressive!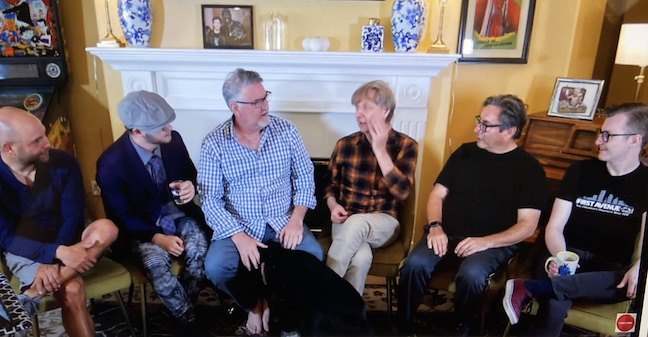 For Episode 20, all but Jason gathered at Mac's place along with special guest Pat Hazell. This broadcast marked the first at which Mac announced his new gig. Congratulations! Meanwhile the always funny Mr. Hazell gave us ideas as he described the theater-scale practical joke he and his friends perpetrated on movie audiences.
BACK TO BEHIND THE BOOKCASE — Despite a May 21 opening of the Magic Castle itself, the online episodes continued …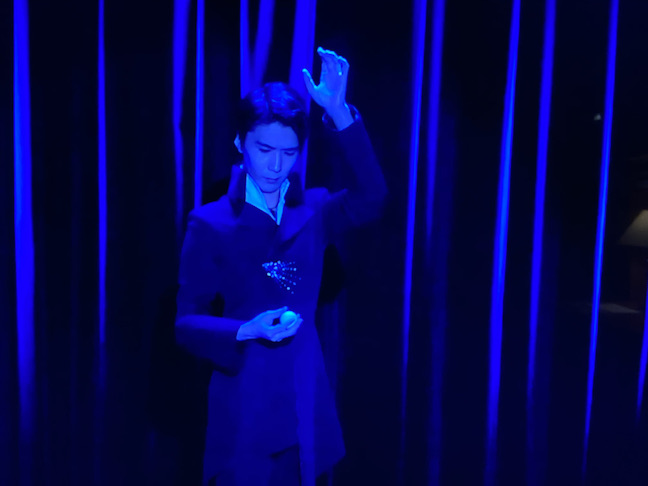 Episode 109: Shoot Ogawa hosted an interview with young master manipulator Yuki Iwane, featuring video clips of Yuki that would remain online for only a week. But quite the treat! Yuki knew of FISM at three and won international prizes himself at crazy young ages. A lovely, graceful act, many of them actually, his later work inspired by the great Mahka Tendo. Perfection!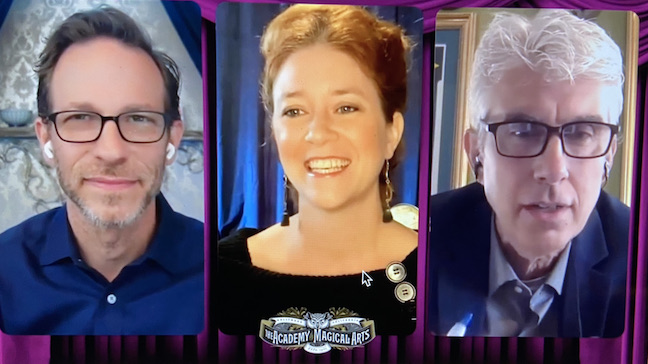 Episode 108: Lindsay Benner. What fun! Jonathan Levit and Christopher Hart interviewed Lindsay live to catch us up on this juggler, actor, and gifted comic since her April 2014 Who's Hoo. (Biggest changes: she's now a mom with two kids.)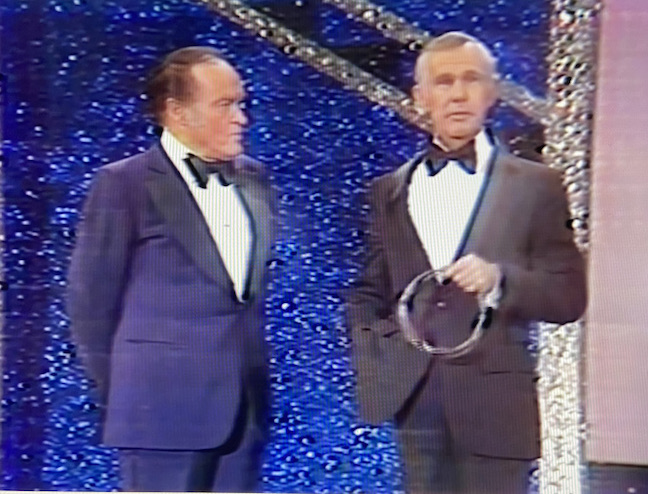 Episode 110: At nearly two hours, Fitzgerald's Who's Hoo celebrating Johnny Carson was among the longest and most sensational of these events, worthy I think of prime time. Gary interviewed in-house guests Dick Carson, Brian Gillis, Mark Wilson, Dean Dill, Orson Bean, and jeff Altman. Video conversation clips with Johnny included Bob Hope, Jack Benny, Orson Welles, Dick Cavett, David Frost, Burt Reynolds, Orson Bean, and the skilled card handler and incredibly charming Tracy Newman. A skilled card handler himself, Johnny is seen doing Linking Rings, Card Manipulation, Thimbles, Cards to Pocket, and Diminishing Cards, among others. The closing act is Lance Burton's FISM act, and Lance gives Johnny all the credit for his success. Of course, when Lance appeared on the show he was already Champion of the World. That helps! Just a thrilling episode.
Episode 111:Jonathan Levit, following the sad-to-me news that the AMA would be dropping the Thursday events, interviewed Slydini student Tony Clark. Taking lessons from Slydini detoured Tony Clark from a destructive passion for body building into a rewarding life in magic. Most interesting was that Slydini would always save a final secret to be taught at the end of a routine.

Episode 112: Mike Caveney interviewed Meet a Member: Louis Lemoine. Louis's intro to the Magic Castle was as magical as most (Tina Lenert was part of his audition committee), but his real magic lay in his day job. Louis spent a life designing for Disney, from the tracks on all the rides to Mickey Mouse's signature. It was fascinating to hear how he designed Mickey's handwriting to be an extrapolation of Walt's.