LEGERDEMAIN IN LOUISVILLE -- So I find myself two hours from home, in Louisville, Kentucky, home to Rick Patino's 2013 NCAA champion Louisville Cardinals, in a rather fancy downtown Marriott. I'm in the elevator heading to my 12th floor room when I am joined by none other than Mac King himself, half of the management team (with Bill Herz) and half of the on stage hosts (with Lance Burton) of the first (and I hope annual) Louisville International Festival of Magic, Illusion, and the Unusual. This first weekend featured some 30 acts spread over 3 days and over 6 venues, namely the Galt House, the Downtown Marriott, the Baron Theater and Georgian Suite at Whiskey Row Lofts, Patrick O'Shea's, and the Garage Bar (a rendezvous point from where they took you to a secret place).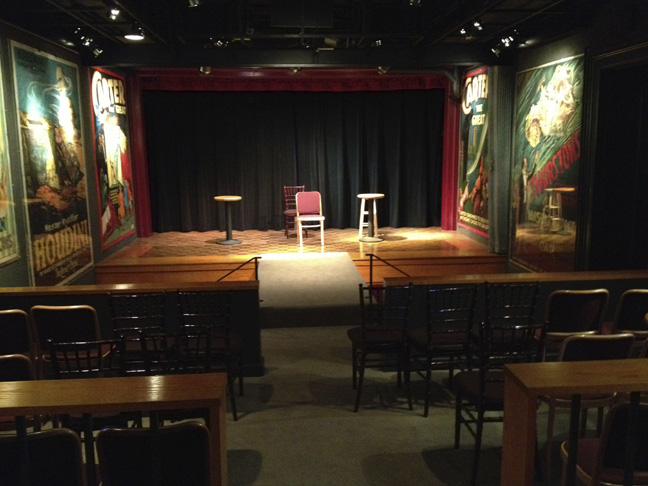 The Baron Theater stage.
As it was impossible to sample every offering, I confined myself to acts and lectures I hadn't seen recently, which helped a little, specifically:
Handsome and Home-Schooled. This of course was John Lovick as Handsome Jack along with Rick Merrill, housed in the beautiful Baron Theater, formerly Squirrelly's Magic Tea Room, decorated with vintage eight-sheet posters and restored by Stephen Jones, a gorgeous venue for watching parlor magic. Even the dressing room was spectacular. John and Rick were great, John getting to me with a slate routine spooky enough that he should give it to Zabrecky and Rick nailing me with a standup version of Multiple Selection.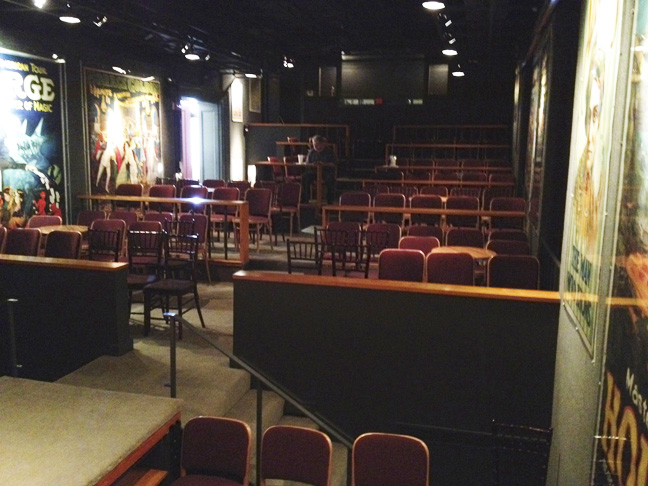 The view from the Baron Theater stage.
The Baron Theater dressing room.
The Magic Lounge. At a rocking pub, Patrick O'Shea's, this was an ongoing close-up show featuring Chad Long, Eric Mead, and David williamson. On the first night, with friends from Springfield, I sat through the sets repeatedly and considered the show the highlight of the weekend. These guys got screams from lay audiences and magician audiences alike, and it was a treat to witness. O'Shea's seemed to be the informal gathering spot as other name magicians drifted in to join the party. I left early (midnight) the first night, after which, I am told, Lance Burton sat down and did a close-up set. I ponied up for a second late night the next night too but never got to see Lance work this crowd. Bummer.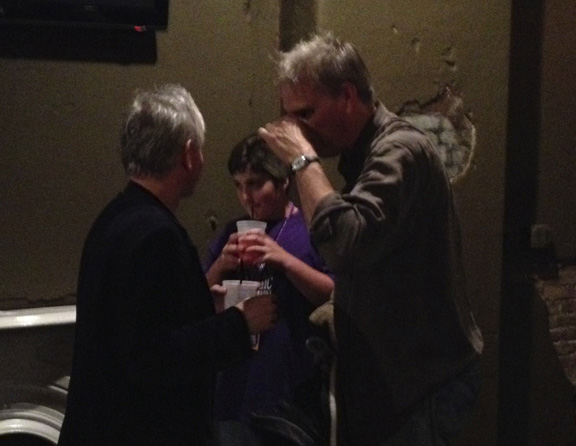 Chad and Dave take a break.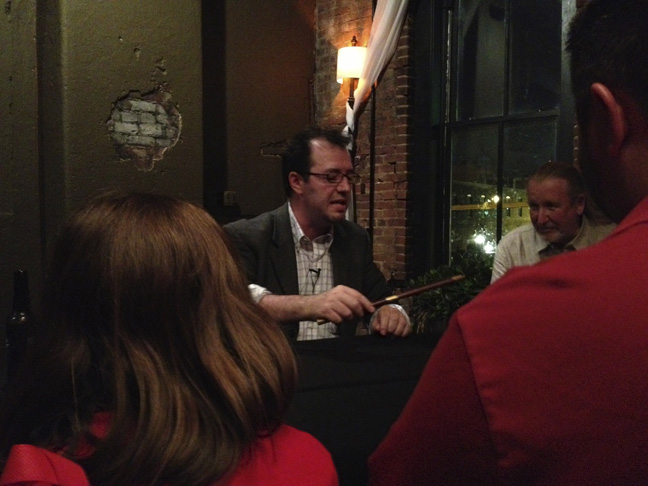 Eric does Ramsay's Coins and Cylinder.
Lectures. I made it to five for magicians only: Christopher Hart, John Lovick, Chad Long, Mike Caveney, and Danny Orleans. Christopher split his talk between the Thing and Zombie, both fascinating. John taught (What else?) a bill switch, closed with I Dream of Mindreading (my favorite), and had a kickass new take on the "You Will Make Passionate Love to a Clown" gag that I associate with Rich Marotta. Chad is just so damn good and manic that I broke my rule of skipping a lecture I had seen recently (the Genii bash) and am glad I broke it. Danny breaks down performing for kids so analytically that you must buy his DVDs if you perform for kids at all. He and David Kaye seem to know everything possible on the subject. And Mike spoke on The Posters of Captain Squirrelly, the art that graced the Baron Theater and its nearby gallery. Dry, you say? Not if Mike Caveney is doing the talking, and not dry to the gathered crowd that included Mike Bent, Paul Wilson, Jason England, Tim Felix, Joe Hanosek, Danny and Jan Orleans, and Rob Zabrecky, among others. This too characterized the weekend: the stars attended each other's events.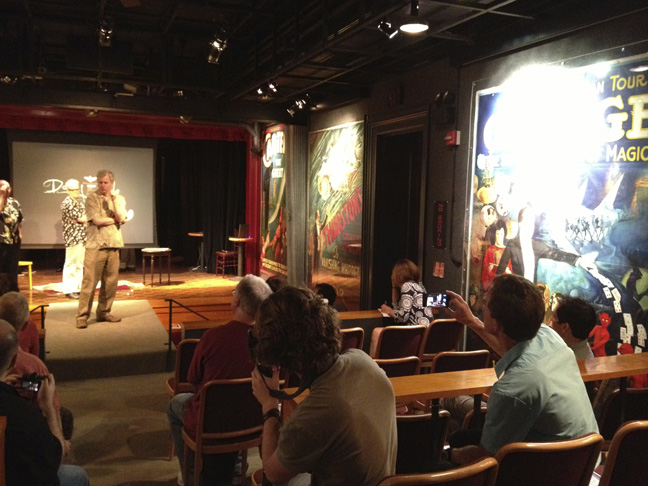 Mike chats with early art appreciation arrivees.
The Festival Gala Show. This was the big one, at the 1400-seat Brown Theatre, hosted by Mac and Lance who got applause merely for naming the schools they attended, who produced the mayor of Louisville from a tiny box, and who opened (Lance) and closed (Mac) the magic in the show. In the two and a half years since his retirement, I had forgotten what a really, really good magician Lance Burton is. He killed with a Silk to Egg (yes, you know the trick, but have you ever seen a master magician do it? with a gorgeous deep purple silk and brilliant lines about admitting to a murder?) and Miser's Dream with a child from the audience. In between Lance and Mac, let's drop a few names: Mike Caveney with his Coffee Break, Christopher Hart, Tina Lenert and Mop Man, Ardan James, Michael Goudeau, and Max Maven. I couldn't help wondering what it must be like to be a layman in the audience and for this to be the first magic show you ever saw. Just the best of the best, under two hours to just give me time to scoot to my next event.
Late Night Legerdemain & Debauchery. This 10:30 P.M. ticket, back at the Baron, featured Rob Zebrecky as host and closing act, Derek Hughes, and Harrison Greenbaum. I've always liked Derek, but Harrison was new to me and was crazy funny, even more so given the profanity in his act and the presence of kids at this hour. His explosive rant at the end cracked me up. As to Zabrecky, I've been a fan of this odd Boy Next Door ever since his first web page, on through the creation of the Castle's Who's Hoo, and then of his conquest of the entire Genii bash in November, and what a pleasure to see the act again. Anybody who can dance funny is so far ahead of what most magicians can aspire to.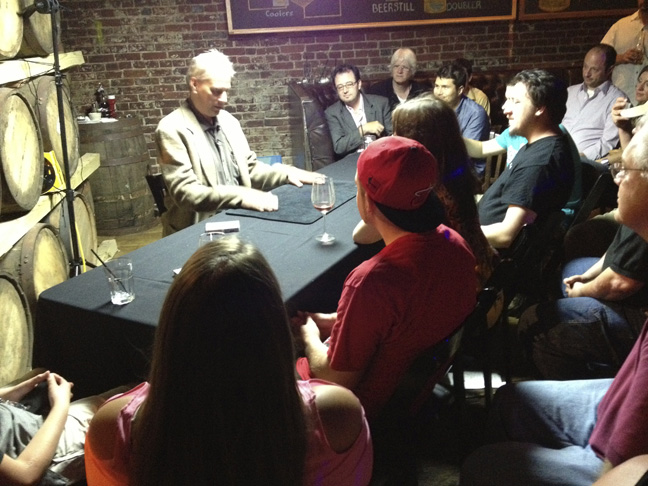 David Williamson plays the basement.
And then ... down to the basement of O'Shea's for more close-up magic. A kid sits down at the table where David Williamson is performing. David looks over at him. "How old are you?" "Twenty-one," the kid says without blinking. And the magic began.
Kicking myself for missing: I had wanted to see the David Williamson Unleashed show (with Mike Bent), but didn't get a ticket in time. And then there was The Secret Show, sold out before I arrived (I am suspecting some knew the secret!), featuring the tandem of Derek DelGaudio and Helder Guimaraes. Is anyone reading this starting to think he should have been in Louisville last weekend? Seriously, the names I failed to see perform, by choice or chance, could have headlined any top convention.
Thanks to Mac and Lance and Bill Herz for doing this, and we hope they do it again. It was nice to meet Bill Herz after all these years. He; Mac's wife, Jennifer; and John Signa were most helpful, to me especially, and to others for making things run smoothly. Louisville is an upbeat town that really comes alive in the late hours, and I hope the town enjoyed the magic.
If I had to name the one magician who impressed me the most over the two and a half days I was in town, that would be ... Eric Mead. Everyone I saw was great, but Eric more than any seemed to do real magic, stuff that fooled me badly and reinvigorated my love for it. I shall have to spend a lot more time with Tangled Web.