EVERYBODY MUST GET STONED -- June has been a hot month for Sweden's Tom Stone, with three major new ways to sample his extensive and eclectic oeuvre. First up, and what most will consider the prize of the lot, is his 270-page hardback collection Vortex, from Hermetic Press. Although some of the many tricks (I counted sixty-four titled trick elements plus three essays) are intended more for close-up than for larger parlor or stage situations, all of them are intended to be performed standing, which makes this a rare repository of stand-up magic the likes of which we've only seen recently from Jim Steinmeyer and Tommy Wonder. Of the sixty-four titled items, only nineteen or so deal with playing cards, and most of those use ordinary cards. To mention a few, I recently added "Reality Glitch" as a bonus climax to my favorite Sandwich routine, "Freedom Cuts" is a cleverly disguised version of the free-cut principle, "The Etude" is one of my favorite presentations for a stacked deck, and "Tracking Mr. Fogg" is a thirty-four-page dissertation on "The Travelers," with multiple versions. Of the non-card items, there are stage coin tricks, glass and bottle productions and vanishes, a lengthy ball and cone routine, rope tricks, and Tom's Himber ring routine. The strongest routine in the book may be a mother of all sponge ball routines: "Benson Burner" is a thirty-two-page routine that begins as a Benson bowl routine and concludes with an explosion of sponge balls that fills the stage. (Tom doesn't mention how to clean up after this one!) Not only is the book a dizzying melange of methods and effects, but Tom goes into great detail as to what he was attempting to accomplish and how to make the routines engaging to the spectators. Just a first-rate work all around. $55 from Hermetic Press.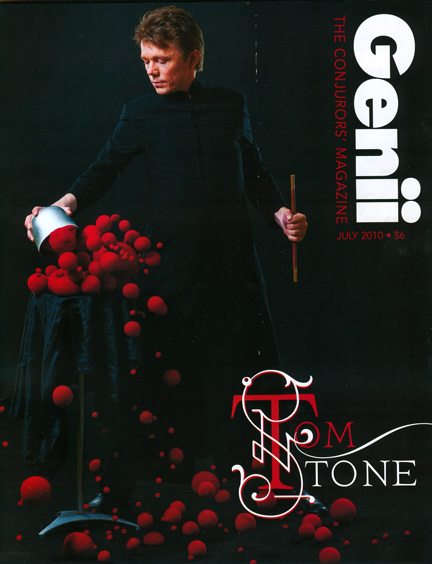 Not your father's sponge bunnies.
Moving along, Tom Stone also graces the cover of the July issue of Genii, specifically with a glorious shot of him doing his Benson bowl routine. The exhibition-class photography continues within the magazine, and we can only wish our own promo shots looked this magical. Max Maven provides a long overdue biographical article on Tom, and Stephen Minch recounts the seventeen years of on-again off-again work that led to Vortex. Rounding out the Tom Stone Genii issue is an eleven-page Magicana devoted to his material. Altogether, including the cover, you get twenty-two pages of Tom Stone this month, quite a treat.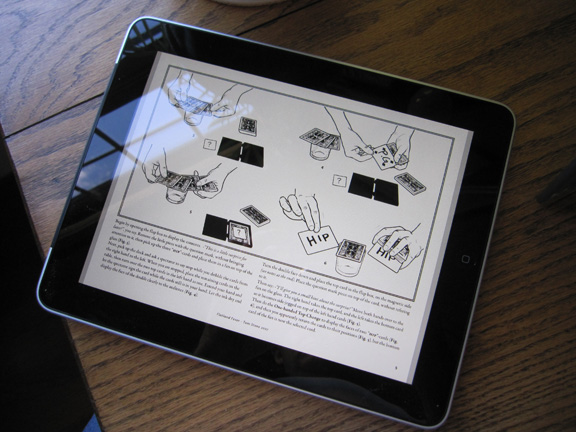 Portable prestidigitation.
Ah, but the third Tom Stone treat this month? I like this one the best. Most of you who were already familiar with Tom Stone are familiar with his e-books. Some of the material from them made it into Vortex. I should note that not all the material made it in. There is still some wonderful stuff out there. (One of my favorites, "The Siamese Booktest," failed to make the cut, for example.) These are gorgeous books, beautifully laid out (I learned from Max's article that Tom trained as a graphic designer), and only intermittently available, like Disney DVDs. (As of this writing, they are all out of print.) Most of us have enjoyed reading them on our computers over the years and eagerly await new titles or the re-issue of old ones. As of the last couple of months, we can now enjoy these same books on our iPads, and they look simply spectacular there. (Download the GoodReader app, which lets you organize your .pdf files into folders and which displays them beautifully.) It's beginning to be a new world for magical (and otherwise) literature, in that we can carry substantial portions of our libraries with us. I have ten of Tom's titles with me at all times, and I'm a very happy boy.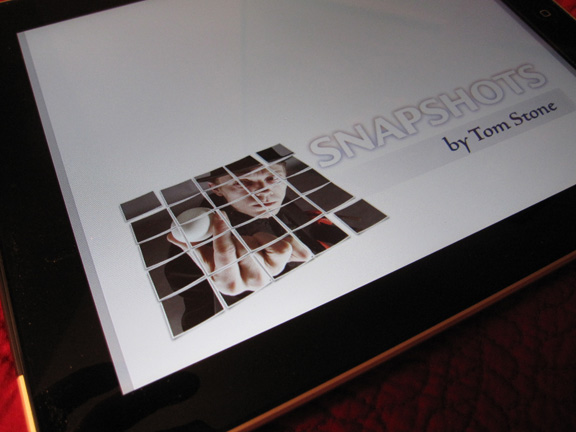 More portable prestidigitation.