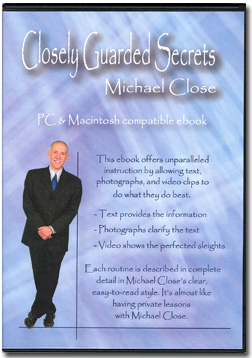 Best lounge act in Vegas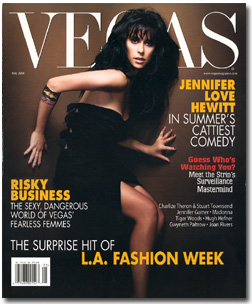 Shameless insertion of Jennifer Love Hewitt photo
AT THE MOVIES -- Shade finally became available this month, for most of us direct to video. Although I found the plot a tad confusing, there are excellent and unselfish performances by the stars, beautiful shots of the Magic Castle, and some of the finest card work ever filmed. Inside jokes abound (don't skip the credits), and it's a kick to watch any movie whose cast names include Vernon, the Professor, Charlie Miller, Max Malini, Larry Jennings, Skinner, and so on. Hal Holbrook's Dai Vernon impression was inspired. Making a bigger splash this month was Harry Potter and the Prisoner of Azkaban, my favorite so far of the books and the movies, and certainly the most darkly magical. If it weren't for getting this in under the June deadline, I'd be sitting there watching it again.
ON THE MAGAZINE RACK -- VEGAS is a big, glossy, sexy magazine named for magic's favorite city. The recent May issue features an article on Shade star Stuart Townsend and another on the "Risky Business" that magicians' assistants face up and down the strip. The magazine is longer on style and celebrity than it is on content, but it's also a visual feast and worth a look.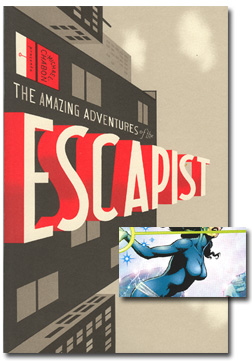 Comics that never were
IN THE FUNNIES -- Last August I finally got around to reading and reporting on The Amazing Adventures of Kavalier and Clay, Mike Chabon's magical tale of two comic book artists who concoct such characters as The Escapist and Luna Moth (she of "breasts each the size of her head"). Comic fans will be glad to know that vintage episodes by the boys have been discovered (by magic?) and are available in The Amazing Adventures of the Escapist. Glen David Gold is a guest contributor and one of the practitioners of this literary sleight of hand. Ah, to at last see Luna Moth! At Barnes and Noble, etc.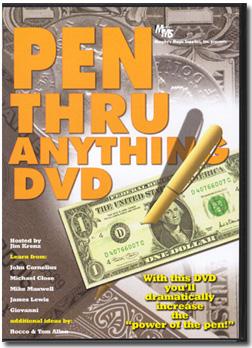 Penmanship 101
MIGHTIER THAN THE SWORD -- Many own John Cornelius's "Pen Through Anything," a fantastic prop. If you do, you need the Pen Through Anything DVD, from Murphy's Magic Supplies. Most of the material is taught expertly by Jim Krenz. (By the way, it's a delight to see him again. Jim vanished down the Genii hole and off my radar a few years ago. I always suspected that he was part of the trade and has been indentured to Richard Kaufman these many months.) Jim teaches visual penetrations and extractions that I didn't realize were possible. Also appearing on this dvd are John Cornelius, Mike Close, Mike Maxwell, James Lewis, and Giovanni. If you own the pen, write out that check now for an incredibly low $9.95 (I encountered that price on Meir Yedid's site).
June 2004
It can't be summer already! So much left to do. This month takes a long look at Mike Close's new ebook, along with a dvd bargain for you Cornelius Pen owners, the latest issue of Vegas, Kavalier and Clay's resurrected art, and a look at two quite magical movies. Hope to see you all in a few weeks at Stan Allen's MAGIC Live II.
LOUNGE WIZARD -- Closely Guarded Secrets, weighing in at 179 pages (deceptively, but we'll get to that), is the first major new work from Mike Close since 1998. (I am not counting hundreds of thousands of words devoted to product review in MAGIC, which Mike turns out like clockwork and are also available.) Most of you who read this sheet know that Mike moved to Las Vegas at that time and became the featured magician/musician at the Monte Carlo's elegant Houdini Lounge, an extraordinary venue for fine closeup magic. Some of you, as I, may have even enjoyed seeing Mike work that hallowed room. As the author asserts, venue dictates repertoire, and Closely Guarded Secrets is above all a riveting tale of reinvention, of why and how Mike reworked or invented afresh his repertoire to suit it perfectly to the Houdini Lounge's clublike ambience. This reworking evidences itself in most of the magic tricks and particularly in an essay chapter called "Venue and Evolution." One advantage the Lounge offered was the opportunity to do longer routines. While this may not have favored every magician, Mike is one of magic's finest raconteurs, and so the opportunity allowed him to be more of a congenial host for the hotel than a hit-and-run trickster.
Most of you also know Mike as one of the heavies of the closeup scene, a magician not adverse to faros, memorized decks, or expert palming (weapons not in my own arsenal). In addition, if you've read the ads, you also know that there are routines for marketed props, such as Gary Plants' "Magnetized Cards," Simon Aronson's "Sideswiped," Robert Farmer's "Bammo Deck Walloper," and Dean Dill's Box (weapons that are in my arsenal). If you have neither those chops nor those toys, be not dismayed. This book is not so much "about" specific tricks as it is about how to present well-thought out magic, and every trick writeup is brimming with secret stratagems, killer dialogue, and real-world considerations that can apply to all your magic, hard or easy. I was especially impressed by the numerous (and often secret) checks to make sure a trick was going well, and by alternatives available in case it wasn't. This is magic highly polished by performance.
All this technical detail is pleasantly doled out as part of a friendly ongoing conversation that began with the Workers series (Mike's opening words are "How have you been?"). As to format, Mike has chosen to distribute this book as an ebook, specifically as a .pdf file. He supplies a ReadMe.txt file, and you should read it to avoid mistakes I made. You'll need Acrobat Reader 6, and Mike provides this. I am not a fan of ebooks, but must admit everything worked just fine on my iMac. One of the reasons Mike chose this format is so that he could incorporate video clips in the text. These are excellent and quite useful. You get to see how the Bedwell Control should look, for example, and the Two Ton Transpo scam is eye-popping. There are two choices: you either click on an embedded video scene, and the clip spins into view in place (this reminded me of those books in the Harry Potter movies, where the photos move) or you click a video link to launch a larger viewer. Nonetheless, you are still inside a .pdf file and scrolling through text, and I don't think you can truly gauge (or enjoy) the scope of this book unless you do what .pdf is very good at, which is to print out its contents. Do so, and you will have a beautifully laid out "spectacular 179-page book" (to quote the cover). I did, and it is.
Each will have his favorite routines, but I'll mention a few of mine (from among the easy stuff!). "The Trick that Lance Burton Showed Me" is a hilarious "six-card repeat" variant and a great example of Mike's adapting to the fact he was working in Lance's house. Lance is also acknowledged in Mike's take on Gary Plants' "Magnetized Cards." "The Shuffles Routine" is one of Mike's oldest routines, featuring over 14 gag and fancy shuffles; Mike chose this to entertain Las Vegas's finest at his 51st birthday party. "The Cheating Lessons" is a grand take on what many of us first encountered as "Lorayne's Poker Deal." Numerous touches elevate this, including a gag to cover a serious discrepancy, a magical touch on the first deal, and a surprise Double Duke finale. (Mike uses faros at one point to stack four sevens. Seasoned readers who don't faro may choose an alternate method, my favorite being Krenzel's "Opti-Stack," actually online here if you know where to look!) The "Sleights" chapter has much to recommend it, my favorite being the Eric Mead/John Kennedy false overhand shuffle. Some day, I may stupidly run an essay explaining why I think "Chicago Opener," to evaluate it in one word, sucks. (I say stupidly because I know this is heresy to some of you. Too many of you.) Mike must have noticed some of my objections, because he has eliminated them in his take, "The Dumbest Casino in the World." In "Pipe Dreams," a section on new Mike Close ideas, there is one trick that will appeal heavily to lowbrows such as myself (it will probably be the first item from this book to actually make it into my repertoire), but I can't quite mention it as the title gives away both the method and the effect. (Hmm, and he thinks "Chicago Opener" stinks.) Finally, Mike's presentation of Dean's Box in the Houdini Lounge has achieved legendary status. It's here and it's spooky.
I'd be remiss to not note the chapter on fooling magicians, something for which Mike Close is famous (or infamous). I was there when he perpetrated the Stewart James Mathematical Card Trick Hoax, and I was there when he sucked us all into the Johnny Ace Palmer Escaped Chick Scam. And although he explains his deviousness as part Acting, part exploiting Preconceptions, and part Thinking Outside the Box, I can't help but feel, perhaps even in this chapter, that he's just setting us up for another fall.
The lengthy conversational visit with the author concludes with an informative look back on Mike's Workers series. Both readers and nonreaders of that series will find value here.
This is a fabulous book, one of the best new books of the new century. It's way too soon for such top material from a top venue and performer to be made available, along with all the thinking behind it. Written by Michael Close, with big thanks to Lisa for the excellent layout and video clips. $35 from www.michaelclose.com. (Earlier I mentioned Mike's MAGIC reviews. You can also get these from him on CD-ROM for only $20, covering 1995-2001.)