MYSTERY MONDAYS -- Magic Mondays -- my weekly summer performance stint for colleagues and their children -- is normally a great opportunity for me to try out new material from recent books. This summer was a bit different as the books I am looking forward to do not appear until next month, by which time my target audience will have returned to school. Darn. And I had already bought a chicken to start doing Mike Caveney's act. Given the dearth of new material and a convenient turnover in my audience, I was able to return to some classics from my A material and from past Magic Monday summers. If you want to have some great fun with close-up magic, try a few of these:
Missing Player -- The poker deal from Dani DaOrtiz's Utopia. The specs shuffle all the cards, deal five hands in any order, and fill those five hands. The magician gets a royal flush. A self-working miracle poker deal that just slays the adults.
Gary Plants Rising Cards -- Gary's oh so practical method. Now that we all carry iPhones, we have music with us at all times. I did this to the theme from Dark Shadows, and the kids loved the spooky accompaniment.
Spectator Cuts to the Aces -- Two fine methods from the Malone Meets Marlo DVDs from L&L.
Marlo's Perfect Stop Trick -- I've done this since high school, but a new touch from Bill Malone raises the ante on how deceptive this is. (From the Malone Meets Marlo DVDs.)
Triple Humdinger -- A lovely Peter Duffie bar trick in which you write three predictions on three napkins.
Nick Trost's High-card Poker Deal, Revised -- The high cards from a shuffled deck are cut in half, the halves ribbon spread on the table, and then the spreads are pushed together, interlacing the cards. (The shuffle is very convincing.) A spectator deals five poker hands, but they are just average. The cards are gathered and cut, and the performer deals five more hands, the fifth to himself. Each of the first four hands is a 10, J, Q, K, and A -- a straight. The performer's hand is the winning one -- four nines. From Nick Trost's Subtle Card Creations Volume 3. Watch for Volume 5 soon!
Nick Trost's Significator Cards -- A spectator selects a card under absolutely fair conditions and loses it in the deck. All this is done while the performer's back is turned. The deck is spread on the table, and the spectator pushes out four face-down cards. Using these four cards as "significators," the performer reveals the selected card with a wacky calculation. (Same book as above.)
Fat City Revisited -- From John Bannon's Bullet Party. Two killer additions to my ongoing love affair with sandwich tricks. Oh so easy.
Question Zero -- Also from John Bannon's Bullet Party. From a shuffled deck, a spectator merely thinks of one of five truly random cards, all five are lost in the deck (even the spec has no idea in which order the five were returned), and yet the magician locates the selection.
Marlo's Mental Reverse -- Another five-card mental test from the Malone Meets Marlo DVDs. In this one, a nice combination of sleight and subtlety, a thought-of card reverses itself in the center of the deck. Bill will fool you the first time you watch it.
Tuzot Sensu -- It was a delight to return to this all-purpose addition to anyone's repertoire. This is Jim Steinmeyer's reworking of Mutus Nomen featuring a devilish false shuffle. Both the adults and the kids loved this one. It's yours for free in the August 2011 issue of Genii or in Jim's notes, Allow Me to Give You Some Really Awful Advice!
Marlo's Lightning Fast Triumph! -- One of the easiest Triumphs you can do yet will fool magicians. From Bill Malone's Here I Go Again DVDs from L&L. These of course are also great fun to watch.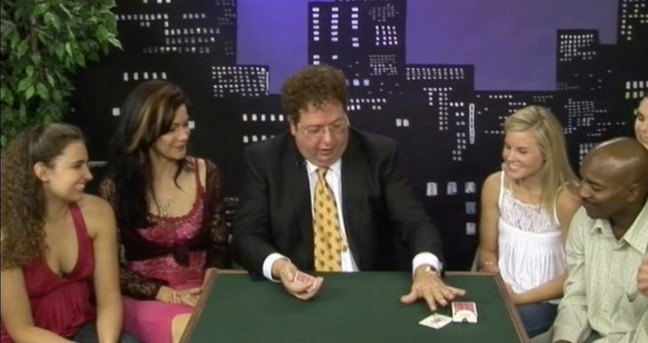 Bill Malone kills with Triumph.
Bluff Ace Assembly -- Possibly the best of the tricks on the Marlo DVDs, an easy yet baffling version of the Slow-Motion Four Aces. I gasped the first time I saw Bill Malone do this.
Nick Trost's Oscar -- This is Nick's one-deck version of the Fred trick, with no rough-smooth. I named the girl's card "Bruce" then showed her all the names to be Martha, Audrey, Sarah, etc. Realizing my mistake, I told her that this was my girls' deck, hence her card couldn't be "Bruce," it must be "... Adalyn," which was her name. A Eugene Burger idea, super response. (Still Volume 3!)
Gordon Bean's Timecard -- A sensational déjà vu effect. I closed with it and garnered gasps. Sorry to report that Gordon lists this as sold out.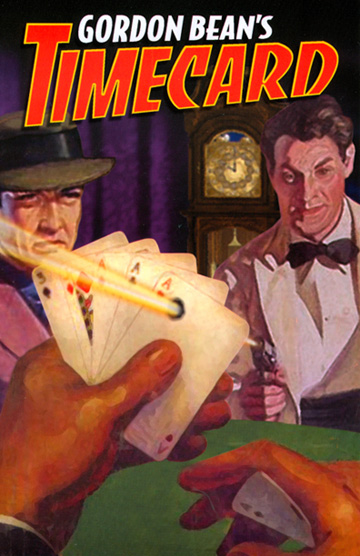 It was deja vu! You were there! Remember?
Diminishing Returns -- From my all-time A list. This is Mike Powers' masterpiece, two tricks in one: a stunning mental revelation followed by a sort of Micro Macro on steroids. This is one of the top five card tricks of all time. Audiences just have no clue.
Hot Rod -- Yep, Hot Rod again. I've wanted to do this ever since Pete McCabe published (in Scripting Magic) the brilliant idea of calling the gems birthstones. I finally found a nicely made Hot Rod at the Springfield convention, and I extended Pete's idea to birthstones "from the planet Mongo." As everyone knows, Mongo has a different orbit than Earth's, hence its year contains "only six months." It's easy to come up with bogus month and stone names to make the spec's birthstone correspond to the one that changes color.
The Scorpion Moth -- Mac King's and Peter Studebaker's terrifying practical joke. This is more fun than card tricks!
Photocopy -- Paul Gertner's spooky hand job of a trick, from Steel and Silver.
A Sure-Fire Prediction -- My routine for Dominique Duvivier's Deck that Shuffles Itself that first appeared in these pages and in spookier form in The Little Egypt Book of Ghosts.
The Probability Pack -- One of my favorite card tricks, from Robert Neale's Life, Death, and Other Card Tricks. It's just impossible, and what happens really happens.
Quick Spell -- Jim Ryan's classic spelling trick. I learned it from his lecture back in my college days.
A Two-Dollar Miracle -- From The Little Egypt Book of Numbers, my take on Milt Kort's Coins Through the Table.
Ranch Hand -- The spooky version, from The Little Egypt Book of Ghosts. A disembodied hand finds the selected card.