Rene Lavand.
And so much more, in no particular order ...
Eric Mead, celebrating his birthday, recounted his life in magic, including a brilliant card trick he devised at age 13. It was disappointing that Eric didn't have multiple appearances, as he did last year, but at least he was a frequent contributor to the online chat and was an emcee.
Rudy Coby lectured on how to be a world famous magician. I've heard this lecture before, and it's inspiring. Rudy didn't win the Desert challenge in Las Vegas, but he had $80K in bookings the next day. Nice consolation prize. Rudy always lights up a room.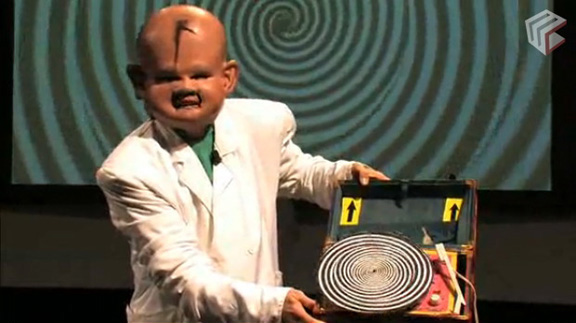 Hmm. Rudy hasn't aged very well.
The Buck twins, taking turns, talked about the evolution of flourishes and effects, easily commanding the attention of those assembled. Their serious approach and mode of speech remind me of that of Steranko.
Jonathan Bayme discussed his jam packed history in magic (he's only 24), leading to the creation of Theory 11. He once raised $83K for his high school. Fascinating.
Apollo Robbins gave a most interesting talk on managing the attention of an audience. Later he and his charming new bride would do two-person mentalism. They did it swell, but I would have first considered Brian Gillis and Sisuepahn or the Evasons for such an act.
Max Maven performed a terrific card trick for the Buck twins, calling them "Duane" and "Donald" because he "knows them," a trick that uses the cards and a smart phone to answer questions about life, the universe, and everything else. Max would later supply the method. In another session, Max tipped his work on the Hindu Shuffle. (This was merely an example, a fine one, in a talk on straight-line methods.)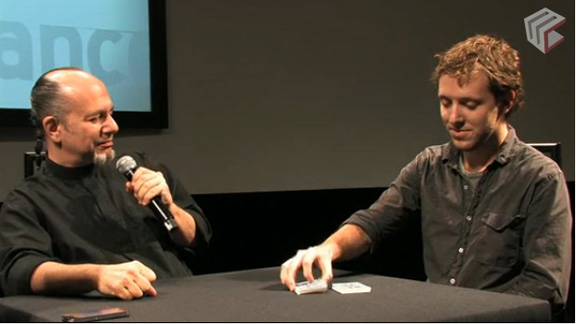 Max shows the Buck twins a card trick.
Stan Allen returned with more things to think about, supplementing his list of 33 from last year (when he got to only 22) to get the number up to 44. I didn't count, but this year as last Stan's talk proved to be one of the most popular presentations. I love lists. Hey, I think we're in one.
Dani DaOrtiz was my favorite "new" face last year and it was a joy having him return. Dani has such a fun, easy-going personality that he can get away with murder. He performed several effects over two sessions, including one stunner that he will eventually teach in a DVD called Utopia. Dani had four spectators mix their cards in a chaotic manner, it being impossible to follow his machine gun instructions, and yet each finally found his own signed card at position five in his packet. Dani claims this is a self-working effect.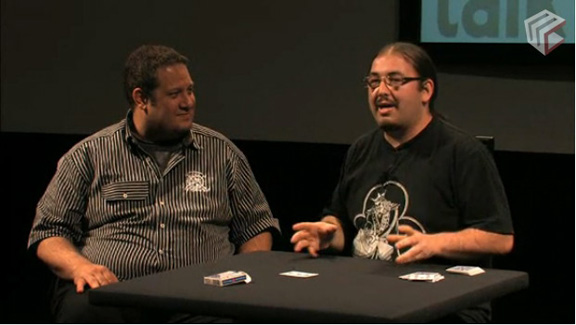 Dani entertains Christian Engblom.
That's Christian Engblom up there with Dani. Christian did a Cards to Pocket after which both his pockets disappeared.
Luis de Matos performed an Egg Bag routine with the bag apparently being his trousers pocket, but more importantly discussed how he used to make a spectator's car vanish off the street and appear in the theater lobby. He did this over 100 times, and the method was like something out of Mission Impossible.
David Britland, in a talk on the first psychological illusionist, ran a film clip of Chan Canasta performing a book test. Canasta took amazing chances based on audience psychology.