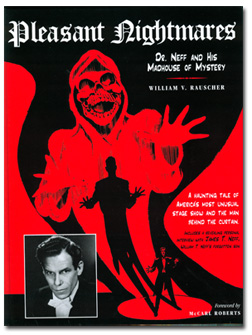 Bill Neff gets spooky.
ERDNASE IN THE 21ST CENTURY -- At MAGIC Live! in 2007, I stood enraptured as Mike Caveney told me and another fellow his story of the discovered typescript of Vernon's Revelation and of both sets of photos of Vernon's hands illustrating the moves. This was a thrilling discovery, pure Indiana Jones stuff. The resulting book is here at last, a lavish coffee table edition designed by Michael Albright. The first few pages alone produce goose bumps, as you encounter a full-page illustration of a hand drawing from Erdnase, a semi-transparent overlay that lays across a full-page photo of Vernon's hand on the next page. The important omission from the new work is the Persi Diaconis introduction to the 1984 Revelations (a fabulous piece of magical writing, and worth its weight to gamblers for the Ray Grismer cull). Added to the new work are intro material by Mike Caveney, Michael Albright, and David Ben, plus many new "present day" developments including The Spread, the Kennedy Center Deal (which Diaconis regretted not including in 1984), and the Ping Pong shift, among others, all accompanied by photos of Vernon's hands illustrating them. (Personal note: I learned The Spread in junior high school from Poker According to Maverick. "Maverick" included a key element of the ruse missing from Vernon's account. At least it was key to me when I executed the move under fire in the heady crooked gambling days of my youth.) But this is a book for the ages. Michael Albright is the best book designer around, and his exacting work makes this book one of the most stunning physical presences in my magical library. The contents are equally brilliant, with the newly laid out original Erdnase manuscript responsible for launching the entire Vernon school of card magic, these contents now expanded upon and handsomely illustrated by the book's most well-versed and accomplished student and champion. You can purchase this fine volume for a mere $65, or you can check in with Mike Caveney's Magic Words, where Mike has concocted a variety of upgrades.
MONSTERS -- William Rauscher's Pleasant Nightmares (Dr. Neff and His Madhouse of Mystery), a best seller at May's MCA Weekend, is a book of monsters. There were the monsters on stage, for Bill Neff produced the most elaborate ghost shows, with plenty of screams and plenty of babes. And there were the monsters within, fueled by alcohol, that led to horrible lives for Neff, his son, and his son's mother. All is meticulously reported, from Neff's childhood friendship with Jimmy Stewart to his rise as the nation's leading ghost show worker to the abusive outrages of his later years. Complementing the thorough research is a wealth of photos. Neff must have been one of the most consistently photographed magicians I know of, and Rauscher uses this resource to lay out the book beautifully. A fine addition to any library. 316 pages, hardback, $59.95 from your favorite dealer.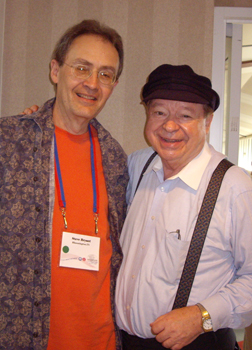 Meeting an idol.

Sharing the real work.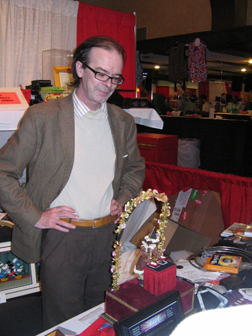 Simon mans the Fantasma counter.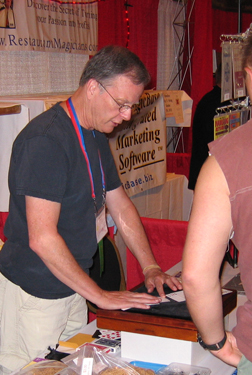 Mike Powers demos Diminishing Returns for the zillionth time.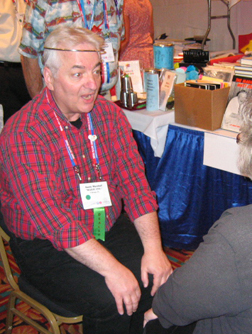 Sandy Marshall leads a lady into darkness.
July 2008
Following a disastrous Florida vacation, I was looking for, and found, a terrific time in Louisville at the combined IBM/SAM convention. It was great to hang out with so many of you readers and nonreaders for a record seven days. In addition to a convention report, we take a look this month at the new Vernon book and the Neff book, both fine offerings you should acquire. Enjoy the rest of the summer. Oh! Important - I understand that over 70 percent of the registrations for MAGIC Live! 2009 are gone. You only have to send in $50 at this point, so don't hesitate.
IBM/SAM 2008 -- Just the opportunity to spend seven days and nights with 2000 of the most friendly, intelligent, and amazing people from all points of the planet, a who's who of magic, helped make this one of the most enjoyable conventions of recent memory. Some complained that there was too much time between events. I saw this as an opportunity for increased social activity, and the breaks worked to the dealers' advantage. It was great to see old friends and make new ones. Except for the hour and twenty-minute wait to register, the rest of the convention ran quite smoothly, and everyone commented on the excellence of the tech crews. The organizers did a great job of organizing. Bonus features included nice daily gifts and a lovely convention program (thanks here to Dustin Stinett and Brad Aldridge). But on to the details ...
IBM/SAM FACILITIES -- The Galt is a topnotch hotel, magically interconnected by skywalks and secret passages to the Fourth Street Live dining and entertainment complex and to the theater at the Kentucky Center for the Performing Arts. With nice restaurants in the building, a breathtaking 360-degree gymnasium, and a suspended bar and socializing atrium with 24-hour service, the Galt is an ideal locale for a magic convention. Card tricks reigned throughout the evenings.
I was far less enchanted with the theater. The door attendants were jerks, not letting people back into the theater if they needed a bathroom break, and I am convinced that, if there is ever a fire, this building will become a huge deathtrap. There is no center aisle on the main floor, and it is just too difficult to exit. After my first encounter with these people, I avoided as many seated theater events as possible, watching contest prelims on screens in the hassle-free lobby areas. My seating companion, Marty Kane, helped me through the events I had to attend.
IBM/SAM BANQUET -- No one ever praises banquets, but this time give the organizers big points for effort. The food was the best attempt at excellence I've encountered at any banquet (gazpacho, salad, lemon sorbet, steak and lobster, and raspberry mocha torte). The rumor was that registration generated more cash than planned and the bylaws prohibited rolling the money over, so the powers that be chose to upgrade the meal. Nice thought! There was fine dinner music, and while the magic show had marked weaknesses relative to the level of the crowd (you couldn't toss a dinner roll without hitting a superstar), it aimed for fun, it was niftily integrated with the food courses, and I quite enjoyed a love-stricken Ardan James and the zany Todd Charles with his baby head musical instrument. My table full of Ontario magicians, one of whom plied us with wine, turned a meal into a party. Thanks, Nick!
IBM/SAM LECTURES -- Brilliant. Those I attended were MAGIC Live! level, which means they were as good as lectures get. Jim Steinmeyer killed with a brick and borrowed watch transposition and with "Fan Mail" from The Conjuring Anthology. David Williamson, Michael Finney, and Mac King cracked me up with high level repartee, but also added meat in heartfelt advice from Michael and Mac. Williamson returned in his own multimedia lecture on impromptu magic, featuring a great John Carney knife trick and a tour de farce videotaped performance of street magic with the slum magic set we all received as a gift. Hilarious. Jon Racherbaumer and David Ben thrilled with their presentations on Marlo and Vernon, including video footage of Marlo in his otherworldly prime and of Ben performing Vernon classics. His "Slow Motion Four Aces" was the best magic trick I saw at the convention. Derek Lever introduced table after table full of rare and often goofy magical apparatus and explained the working of each item. Fascinating. As was Eberhard Reise's staging advice to Jeanette Andrews, who performs an enchanting My Fair Lady act. And then there was the late night chat with Mike Caveney, David Charvet, and the lovely Frances Willard. Her tales of life in a tent are amazing. Buy the book!
IBM/SAM PERFORMANCES -- Some so-so, some spectacular. I particularly enjoyed Paul Gertner (unannounced Sunday shows, awesome), Mac King (really funny unscripted hand gesture), Voronin (loved the self levitation with the help of an "invisible" guy in a plaid suit), Marty Pollio, Michael Finney (great handling of a troublesome spectator), Brian Gillis, Rick Merrill (giving the works to emcee David Williamson), Roxanne (hair impersonations!), Wayne Dobson (great hobo encounter), quick change artists Sos and Victoria plus their young children who did a separate manip act, and Topas who produced a stage full of audio speakers.
IBM/SAM DEALERS -- Those I spoke to were extremely happy with sales, and the room was buzzing throughout the convention. Just inside the door, the Axtell exhibit of puppets drew a steady crowd. Other stops that thrilled me: Paul Gertner with his "Heartbreaker" and "Bite Me." Mike Powers with his "Diminishing Returns" miracle (and a new-to-me mentalism variation). Bob Swadling who sold out of 300 of his new coin through hank stunner ("Double Deception"). No one gets so much from a flipper coin. Everything at Henry Evans' booth. I skipped the close-up contest one morning and ended up enjoying a private showing of every one of Henry's creations. Goodbye, money. Magic, Inc. with the new must-own Marlo book, Cardially Yours. It was a big kick to see Sandy Marshall perform Corinda's "Powers of Darkness." Simon Lovell exhibiting the lovely ironwood wands and automata at Fantasma Magic. And the most beautiful new items at the convention, from Mike Caveney: Vernon's Revelation and David Charvet's Willard, A Life Under Canvas. Just exceptional book production.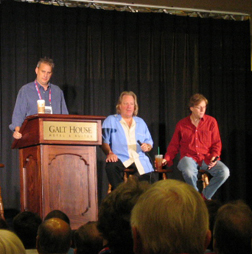 Duck! Zingers are flying.
IBM/SAM CONTESTS -- With $10,000 and a pile of contracts available to the winners, we expected and saw great contestants. Judges narrowed the field to six finalists in close-up and stage categories, and the audience made the final selections. Two acts I enjoyed that didn't make the final six include John Born's close-up set and the Reed Sisters' new stage act (Jessica still does her bare-hand dove to rabbit, Shayna still does her mind-blowing interlocked card production, and they all dress up really great). Among the finalists, I greatly enjoyed Mark Oberon's winning Midas touch act, but voted for Latko, who exhibits a charming personality as he produces an entire chess set from what begins as a Cups and Balls routine. On stage, I especially enjoyed Tony Chapek's interactive television act and David Kaplan's comedy act, but succumbed as did a majority to the exciting card productions of An Ha Lim of Korea. The bottom line: the 20 grand went to the right people.
IBM/SAM AFTER HOURS -- The best part of any convention is the after-hours socializing, and so it was with this one. It was cool for me to meet longtime idols Voronin and Philip Morris. It was great for me to spend an hour catching up with my old friend Simon Lovell, including hearing all the juicy secrets of Celebracadabra. Mark Horowitz shared a look at some of his great magic comics collection. Youngsters Matt Richman (13) and Jordan Cotler (14) performed extraordinary card moves. Youngster-at-heart Jon Racherbaumer killed with a squeaky clean "Twisting the Aces," a Howie Schwartzman effect from MUM, and a version of "Triumph" that caused one viewer to exclaim, "That was even better than Joshua Jay's!" The most surreal moment came when Mike Powers and I were invited upstairs to be interviewed on a live internet video feed, courtesy of the guys at StreetofCards.com. This was at two in the morning, and it amazed us that there were folks actually watching this stuff, folks we knew, texting us questions. Many others were interviewed through the week; check out the site.