TROST CHAPTER FOUR --For Nick Trost fans, Christmas continues: Nick Trost's Subtle Card Creations Volume 4 will appear only a few weeks into the new year. In the same elegant style (vintage decorative art, Tony Dunn explanatory art, inspirational epigraphs) and same elegant prose, here are a dozen more chapters extending the Trost legacy. Specifically, add Gemini Twins Effects, More Royal Marriages, Gilbreath Plays Poker Part 1, More Revealments, Spelling Tricks, Tricks with Two Decks, Cards and Dice, Special Decks Part 3, Packet Tricks Part 4, Special-Deck Gambling Effects, ESP Cards Part 4, and Special Props.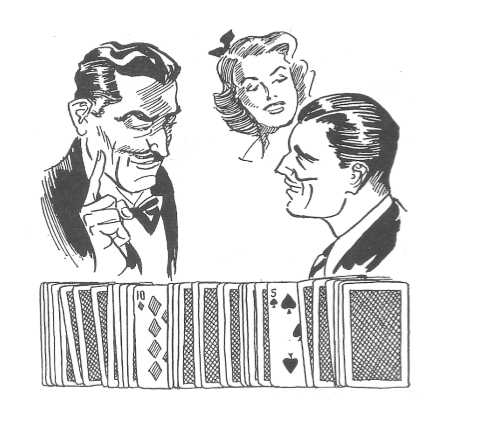 From National Magic Co. Catalog No. 7, 1947.
Any of the Gilbreath-Poker routines should kill, virtually all allowing a genuine spectator riffle shuffle before the devastating hands are dealt. Trost Poker Demo is (at least) a strong double duke deal that invokes supplied poker lingo. In You Do As I Do Poker Deal the spec shuffles half the deck, deals himself four of a kind, and then lets you deal yourself a royal from the same shuffled half. In Crooked and Straight Dealing, the spec shuffles and deals off the top or bottom to no reward, then lets the magi deal everyone office hours (9 to 5 straights) and himself a royal flush.
Re more gambling, the Special-Deck effects allows the magi to demo his prowess at euchre, bridge, blackjack, fan tan, hearts, and Kaluki! For the right audience, you can look like the best-informed gambler on the planet.
The first Multiple Deck trick I saw, similar to Scarne's in Stars of Magic, was done on TV by Jay Ose, and I've always had a soft spot for them. Trost's Triple Coincidence II and III are very nice additions to the arsenal. Of the variants I am most likely to perform first, I like Update on Eddie Joseph: any card is reversed in a red deck and left in position. Pairs of cards from the red deck and a companion blue deck are now dealt off the top, and none match. Until ... the reversed card is reached, and the blue card at that position is an exact match.
The Revealments chapter contains Cabalistic Countdown, which exploits one of my favorite math principles, and an easy version of Diamond Cut Diamond. My favorite was Pseudo Princess, in which Trost gets into the Princess card trick genre by starting out with a Si Stebbins stack. I explored Princess variations in The Little Egypt Book of Numbers and have always admired what the strategy offers. This is a nifty addition to the methodology.
For those of you who enjoy Steinmeyer's Nine-Card Trick, Trost's Eight-Card Lie Speller provides a very sneaky way of getting the selection into position to begin the trick as you apparently "program" the packet based on spectator answers. You never know where the selected card begins, but the process sets it for the usual killer finale.
Of course, some of Trost's most famous routines involve specially printed cards or props. I owned a Pizza Poker disk when I was younger and didn't even realize it was a Nick Trost creation. The current book includes a full chapter of special decks (there is even a specially printed version of Stewart James's Further Than That) and another of packet tricks. As I have written elsewhere, Jon Racherbaumer once buckled my knees with a squeaky clean version of Twisting the Aces. I had no idea that Jon could be so underhanded as to use gaffed cards, but he did, a Trost invention. That trick is in this book.
Nick Trost left behind a wealth of easy to do card magic, and it is a pleasure to watch this legacy unfold. This is the fourth of what could potentially run to nine volumes, and I may have to set up a little database to keep track of favorite routines. I have enjoyed fooling people with this material and look forward to many more such occasions. As usual, the book is from H&R Magic Books, edited by Charlie Randall, taking us from page 581 to page 862 in the series, not counting the frontal matter that includes a foreword by Roy Walton and a brief introduction from Nick Trost, $50 ($44 through January 31). Highly recommended.