MAGIC BY THE POUND -- Prior to this month, only two Patrick Page books graced my bookshelves, albeit two favorites: 150 Comedy Props, a fertile source of stand-up routines; and Magic by Gosh, a detailed description of magic's most commercial close-up act. Occasionally Patrick's Big Book of Magic would turn up in the public library of some town I was inhabiting, and it was always a thrill to discover a copy there. Missing from my education were the numerous booklets that Patrick wrote, the magazine contributions, and the Trick-a-Tape contributions. Fortunately, these have been assembled along with unpublished material into a volume that could be called the Mammoth Book of Magic, for it is, but is more modestly and tastefully titled Magic Page by Page. I expected the contents to be very, very good, and they are. Rightly or wrongly, I have always lumped Patrick Page in a niche with Karrell Fox, as a prolific inventor and performer of practical, magical, and frequently comedic material. Patrick describes his input to the book this way: "I know that magicians want to know exactly what other magicians ... performed in their act, and that is what you are getting in this book -- the actual tricks I made a living from."
A quick list of the ten chapter headings defines the scope of the book: Cards, The Stacked Deck, Coins, The Miser's Dream, Miscellaneous, Dealers' Delights, The Topit, Patrick Page's Comedy Magic, Misdirection, and Now They See It. That last title refers to tricks in which all the spectators but one are in the know, such as Slydini's Paper Balls Over the Head and Card on Forehead. My favorites were the card chapters and the comedy magic chapter (there is a really funny bit with a cell phone in there), but there is gold throughout, including Patrick's 10-Second Paper Tear and Easy Money. As expected, it is all solid, practical, commercial material, the real deal.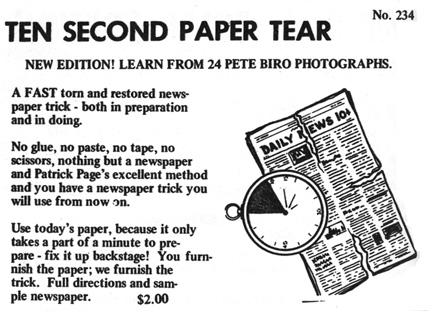 Ad from Magic, Inc. catalog.
The delightful surprise to me in this book was discovering Patrick's voice. First, it is conversational, as though he is speaking to you directly, a la Harry Lorayne. Second, he is highly opinionated. In a wonderful piece on the Top Change, he argues against jazz magic as most perform it, simultaneously realizing the futility of his argument: "... I'm thinking, 'Why am I writing this?' It is a complete waste of time, because the people who indulge in this peculiar pastime will never understand what I am talking about." Likewise, he denigrates those who show off in a Miser's Dream routine: "Now this is strictly a personal opinion, but a display of digital dexterity in the middle of a Miser's Dream routine is wrong, wrong, wrong." No beating about the bush. He is also not shy about taking to task colleagues who have misappropriated his material (ex.: Larry Jennings, Al Koran).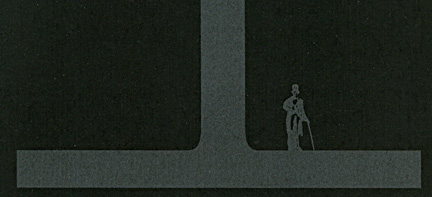 Base of chapter one graphic.
All this refreshing prose is wrapped up in a very pretty package. Michael Albright makes everything he touches look like a million dollars, and that is the case here. It is an oversized book with striking, oversized fonts in the trick titles. The chapter headings are even more dramatic, with the silhouette of a magician or two cast against a gigantic numeral indicating the chapter number. Dozens of photos and line drawings ably illustrate the mechanics, and vintage photos of Patrick Page illustrate a life, all the way back to when the subject was performing as Ricky Page. The task of tying this all together fell to Matt Field, editor of 70 books for Richard Kaufman and recently the longtime editor of The Magic Circular. Matt did a fine job, and the book reads as though every word was written afresh for this volume.
A sumptuous book, hardback with dust cover, 330 pages, 45 pounds in the U.K., 60 pounds delivered to the United States, directly from The Patrick Page Magic Company.