FROM LONDON, WITH LOVE -- Whenever someone inquires about my interests in magic, I always provide two answers: cards and ghosts. While I frequently purchase books that address these topics individually, it is rare that a single book addresses both. Andy Nyman's Bulletproof does just that.
Following a long gestation period, a not unusual happenstance for a Miracle Factory product, Bulletproof arrived over the Christmas holidays and significantly perked up an already bountiful season. Thanks to this additional whopper of a gift under the tree, this may be the best season of magical goodies since my Mysto Magic year, long, long ago. Indeed, Bulletproof invites comparisons with a Mysto Magic kit because it's a kit in itself, filled with intriguing props that you would be proud to use in professional situations.
Andy Nyman, as I'm sure most of you know, is literally an actor playing the part of a magician, having starred in such films as The Brothers Bloom and Death at a Funeral, in such tv series as Dead Set, in such plays as his current London hit, Ghost Stories. He's been the director and writer for most of Derren Brown's best known works. Behind the scenes of all this, he is a creative magician, turning out material he labels bulletproof, material that "will work no matter what an audience fires at it," material that employs "simple methods that deliver," and material "that is fast, direct, and at times frightening but always powerful."
As we've come to expect from Todd Karr, Bulletproof is a first-rate production, with the same rich look and feel, the weighty glossy pages, the elegant fonts and layout that graced such predecessors as House of Mystery, The Secret Ways of Al Baker, and Roy Benson by Starlight. The book is primarily illustrated by photos, both black and white and color, plus by the distinguishing addition of charming vintage advertising line art. Both the writing and the photos are shot through with brilliant good humor. You can tell that Andy hangs around with Derren Brown, or perhaps it's the other way: you can tell that Derren Brown hangs around with Andy. They share a wicked sense of humor. The book as well is permeated with family values: Andy Nyman is clearly a guy who enjoys his wife and children, who are subtle presences throughout the book.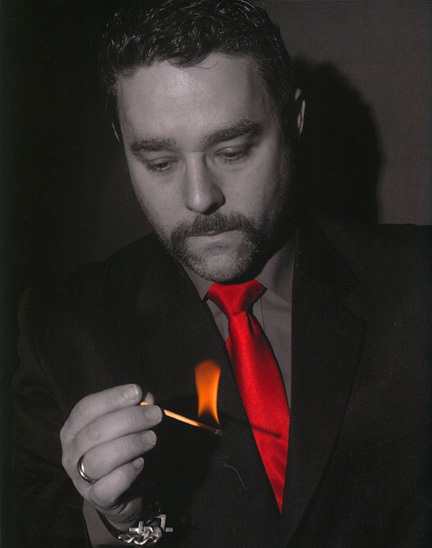 Andy lights up the screen.
But to the cards and ghosts. The book brims with killer material, dead easy to do. In Dead of Night (a marketed effect I immediately ordered), the magi spells to three selected cards using words he couldn't possibly have known. In Mr. Saturday Night, a bride selects Mr. Right from nine possibilities. Charade and The Sven Demo give you wonderful magician-fooling things to do with a Svengali deck. Homicide might be construed by savvy magicians as being advanced memdeck work. But why make it so hard? No memory or calculations are involved. Identity (based on a Barrie Richardson routine) will seriously, seriously fool people. Atonement is a creepy living and dead test, sort of. And then there is the ghost. The Stalking of Marie Ambrose is a full-scale spooky seance, enhanced by the creepy props supplied. In most of the above, I did not have a clue as to how they could be accomplished and so eagerly jumped from the Effect to the Method to find out. Your audiences will not be so lucky.
Rounding out this compilation of goodies are printed interviews, four essays (one on David Copperfield made me cringe for David's sake), an audio interview on CD, and a DVD on how Andy had his head ripped off. All in all, a special book. Hardbound in leather, 288 pages, props for five routines included, $250, from The Miracle Factory.
EACH AND EVERY DAY OF THE YEAR -- I know, this sounds like a Neil Sedaka song, and it's almost as much fun. Roberto Giobbi's new book of days, Secret Agenda, boasts something of magical interest for every day of a 366-day year. What makes this special, in addition to the luxurious formatting from Hermetic Press, is that you get the sense of dipping into Roberto's personal notebook, a peek at the stuff that genuinely excites him. It's far more than a book of card tricks, even though there is a generous supply of why-didn't-I-think-of-that card tricks, key card placements, controls, forces, shuffles, deck switches, mucks, hops, ace productions, and color changes to keep you busy through the next winter/spring/summer/fall.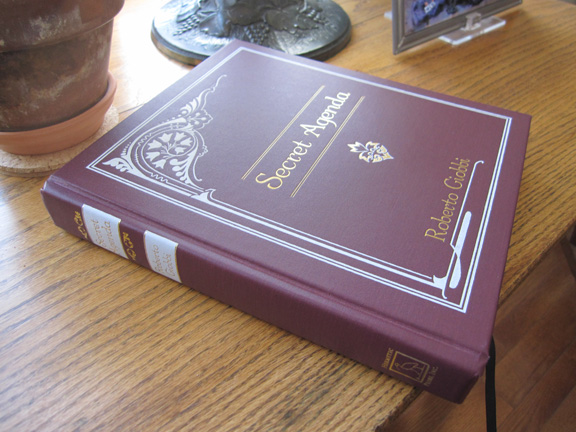 A handsome book of days.
To this add a cornucopia of ideas on sponge balls, coins, cups and balls loads, linking rings, applause cues, strategies for organizing your gaffed decks and your notes, math stunts, bar bets, finger puzzles, anecdotes, even a sneaky way to steal a kiss. And the lists: lists of quotations on numerous topics, of books you should read, of card tricks you should know, of films you should see, and of the best tricks to learn from Mike Skinner's Classic Sampler. What fun. This book invites you to skip around blithely among its varied contents, and a handy ribbon is provided to mark your most recent visit. Hardback, 414 pages, $55 from Hermetic Press.
CHATTER -- While not exactly a magic book, not even exactly a magic biography, Dick Cavett's Talk Show is a highly entertaining read with plenty of magic in it, including an eight-page chapter on Slydini. Dick Cavett is an incorrigible name dropper, a la Kreskin, and I think this is because he is still that shy young everyman from Nebraska who was genuinely surprised to find himself a Yale graduate and in true awe of the many celebrities he met and befriended, most notably that other young magician from Nebraska, Johnny Carson. You will laugh out loud at Groucho Marx's visit to a seance, you will cry over John Wayne's inscription on a photo. This collection of Dick's New York Times essays from 2007-2010 should delight not only lovers of magic, but all who cherish language, wit, and the American landscape. Hardback, 281 pages, $25, everywhere.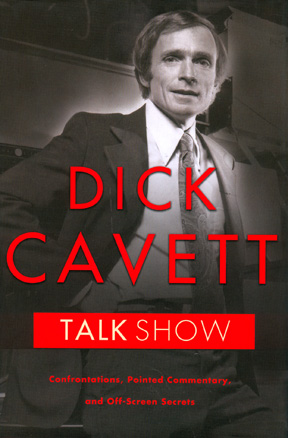 A handsome book of names.