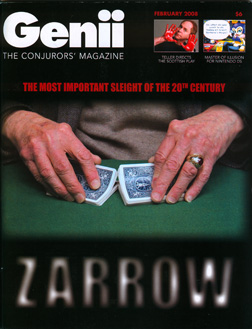 A shuffle for the ages.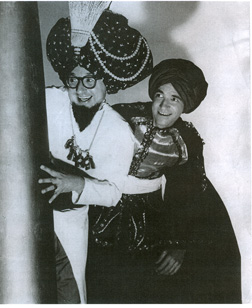 Before there was Penn and Teller ...
ALL THE TRICKS IN THE BOOK -- A Barnes and Noble gift card from Christmas led me to said emporium, where I stumbled upon the extraordinary Mac King's Great Big Ol' Book-O-Magic, billed as "a complete magic kit in a book." That it is, a massively tricked out book that would do Mark Setteducati proud, overflowing with fold-out, punch-out, and removable plastic gimmicks (all of which you can store later in a supplied plastic pouch) that enable you to do the 48 tricks within its pages and a dozen more from a live-action dvd. These are great tricks, some with cards, some mental, some optical, some betchas, some terrific gags, and one great illusion ("How to Make Your Sister Appear from a Cardboard Box"). You will find lovely takes on the Blister trick, the Buddha papers, the Long Card, and Out to Lunch, all delightfully illustrated by Mac's cousin, Bill King. Humor permeates the lessons as a cartoon Mac King teaches the tricks to Lewis the Monkey (with occasional help from a suspiciously familiar-looking monkey named Uncle Max). A perfect gift for the young or young at heart, practically free at an asked $14.95 and usually even cheaper with book store discount. I marvel at the incredible amount of work Mac and Bill must have put into this amazingly designed product.
ALL MIXED UP - NOT! -- In the 50 years I have been reading Genii, February's cover is the first I recall devoted not to an individual but to a sleight-of-hand move. That move is of course the Zarrow Shuffle, whose "inner secrets" I have encountered numerous times over the years in magazine articles, monographs, dvds, and so on, but none so detailed, useful, or authoritative as the fine points covered in this write-up by David Ben. A companion article details the incredible history of the shuffle, especially the attempts by Marlo to encroach on its paternity, and here too I have never before seen such detail or authority. This is a far cry from he said/she said. Altogether a great keepsake issue of Genii, a fine early Valentine's gift from Richard Kaufman, David Ben, and Herb Zarrow.
TURBANS -- I tend to do a lot of things in life ass backward. A most recent example is reading Genii contributor and Genii Forum hall monitor Dustin Stinett's monograph Catching Up with Milo and Roger prior to reading Stephen Minch's publication of Arthur Brandon's (Milo's) autobiography, Milo and Roger: A Magical Life. Milo and Roger created one of the rare comedy magic acts to make the big time, including working with major stars on stage around the world and network tv appearances in the 60s, charming audiences with the Temple of Benares and Where Do the Ducks Go? while wearing goofy oversized turbans. A dearth of photos in the Minch publication prompted Dustin to begin a quest for more information on the boys, a quest that at times took on the surprises of an Indiana Jones adventure. Dustin's search culminated in a presentation at the Tenth Los Angeles Conference on Magical History in November 2007 and the publication of the volume being discussed. This soft-cover, full-sized, 65-page glossy publication contains 70 new photos, many in color, and a new Milo and Roger timeline that makes modest corrections to the Brandon bio along with Dustin's incredible story on how he came by all this new information and ephemera. So, buy the Minch book first (still available at Hermetic Press for $37 plus postage) and then enjoy Dustin's amazing research for $25 and postage, from www.miloandroger.com. Introduction by Mike Caveney.
January 2008
Happy New Year one and all! Let's get right to 2008 with looks at a magic kit in a book from Mac and Bill King, the legendary Bruce Cervon notebooks, a Milo and Roger research report from Dustin Stinett, a history of black performers in magic in the U.S. for juveniles, the "most important practical card move invented since Erdnase," and a few notes on recent internet activity.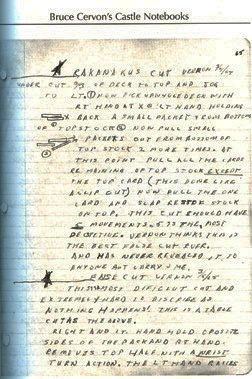 A gift from Bruce.
NEBULA -- It was the Magic Castle's most fertile age: the Professor was in the house, students headed West in search of card magic gold, and stars were born. In its early days the Castle was to card magic creativity what Sun Records was to rock and roll, spinning out classics that would enrich all our lives. Fortunately one of these students and creators, Bruce Cervon, went home nightly and recorded the evening's activities in what have become the fabled Cervon notebooks. L&L Publishing has recently published Notebooks 1-3 (of an eventual 14) in Volume 1 (of an eventual 4) under the title Bruce Cervon's Castle Notebooks. This 409-page hardback facsimile edition covers the period December 1964 - November 1965 and provides a fascinating look into the early second half of 20th-century card magic. The book adds forewords by Joan Lawton, Mike Perovich, James Patton, and Stephen Minch. Unlike, say, the Daley notebooks, Bruce was thoughtful to provide all the details needed to reconstruct the tricks later. It may be bare bones, but, as Minch notes, all the bones are there. (One also now understands the remarkable work that Stephen Minch did in converting some of this material into the Vernon Chronicles.) Although pricey at $200, the book is invaluable to students of modern card magic, and the print run of 500 copies quickly sold out.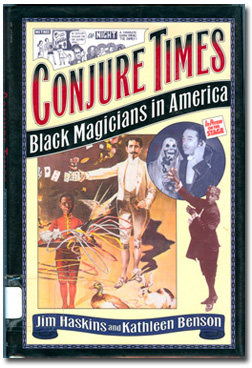 History lesson.
BLACK ART -- Because of the ease of browsing at such booksellers as Barnes and Noble and Borders, where steaming caffeinated drinks are at hand, some with whipped cream even, I rarely spend time in libraries anymore. Finding myself in one recently, I homed immediately to my old 793.8 stomping grounds where I discovered a 2001 publication that had previously escaped my notice, Conjure Times, subtitled Black Magicians in America. This 174-page hardback by Jim Haskins and Kathleen Benson, aimed at ages 8-12, covers black magicians in the U.S. from son of a slave Richard Potter (arguably the first U.S.-born magician period) to David Blaine. It's a most enjoyable read. Special treats for me included a brochure for young "Award Winning Magician & Illusionist" Arsenio (Arsenio Hall), a lengthy chapter on Fetaque Sanders (whom I regret not meeting the one time I had the chance; in this book I finally learned how to pronounce his name), and a full background story on Goldfinger and Dove. Although a few significant African-American performers of today are not mentioned (no Michael Douglas? no Chris Capehart?), the overall history of African-American performers in America is one all magicians should be aware of and proud of. Most enjoyable reading.
NET NOTES -- Richard Kaufman has recently shaken up his Genii Forum by limiting the permission to post to Genii readers. This has resulted in no noticeable loss in quality or quantity of correspondence but has resulted in an elevation in the quality of spelling and punctuation. For a while, there are no goofballs using apostrophes to form plurals. Evidently limiting privileges to folks who read at least one well-edited magazine per month and excluding folks who live only on the internet is a good thing.
We recently mentioned that getting on Alan Watson's e-mail list was a smart thing to do (www.watson.co.nz/fezine.html). Another smart list to be on is Jim Canday's, who has a great site at mysite.verizon.net/jhcanaday/html/services.html. Jim periodically mails out lists of new sites that magicians may enjoy, and he recently provided a couple of great tricks in .pdf format.