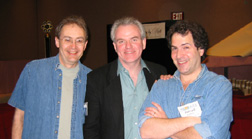 January's author, subject, and editor convene in Las Vegas
MR. JANUARY -- Ian Rowland is a multi-talented British artist and mentalist and subject of a 20-page cover article in the January issue of Genii. He creates improbable and impossible art out of playing cards, and his book on cold reading is the essential text in the field. His interests and accomplishments are diverse, and his influences range from Douglas Hofstadter to Eddie Izzard. I hooked up with Ian in Las Vegas and perusuaded him to show me his favorite card trick, "Thetalia." Oops -- big mistake. He fooled me badly and took money off my hands in the process. If you still aren't a Genii subscriber (or at least a regular magic shop purchaser), there is no better time to start. For those who can't wait for a peek at some of Ian's incredible artwork showcased in Genii, check out his web site, Ian's Mansion.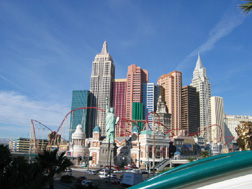 A favorite Las Vegas vista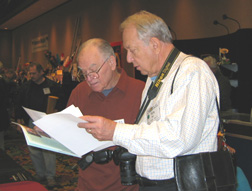 Two wily craftsmen confer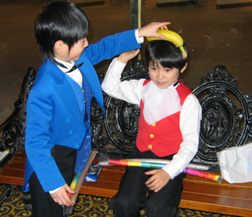 The Yamagami Brothers' banana on the head trick
January 2004
Ah, the new year begins. This year's World Magic Seminar was a treat. Although you would have to actually like Austin Powers to consider it 100 percent successful (and I realize many do, alas), it came pretty close. A huge thanks to my sometime dining companions -- Mike and Lisa Close, Ian Rowland, Mike and Maria Powers, Chuck Rubye, and Melinda and Mason -- for making it a memorable week. See details below, along with a look at the January issue of Genii and Andrew Mayne's latest tricks with his body.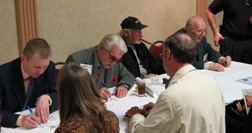 Quentin Reynolds and three old guys sign autographs
DESERT MAGIC -- If it's January, it's time to visit Las Vegas for the World Magic Seminar, a post-Christmas treat put together each year at the Riviera by Rich Bloch, Glenn Farrington, and Joe Stevens. Superseding any scheduled benefits is the opportunity to congregate with 1000 friends in a city that never sleeps. Other highlights for 2004: Bill Malone's extra-pay session (an hour and a half of laughs and wisdom, attended on Tuesday by no less than Jay Marshall, Howie Schwarzman, and Dexter Cleveland, and regarded as the best money spent this week), Tim Conover's close-up show (wonderful to see Albert Goshman's salt shaker routine again), John Cassady's hilarious balloon act, Joe Monti's head falling off, Losander's floating table performed on stage, Jon Armstrong's engaging close-up persona, Allan Hayden's demented vanishing killer gherkin routine, Armando Lucero's entire act but especially his "Coin Menagerie" (okay, he's just a little guy; we could beat him up and make him reveal his matrix secret), the Yamagami Brothers (seven-year-old boys from Japan, both crowd-pleasing, tap-dancing illusionists), Paul Daniels performing Nick Einhorn's amazing self-levitation in a cardboard box (and his wicked retort to a Max Maven putdown), Scott and Jenny Alexander's illusion act (Jenny proved that looking really pregnant can look really sexy), Wayne Dobson's vent routine using live spectators as dummies, cool dealer products (Losander's "Sphere," Joe Porper's split linking ring, and the bejeweled and magnetic wand at the Joe Stevens booth), Mike Powers' card tricks, Siegfried's award show speech (this had us in tears), and a magical Missing Link (hosted by Max Maven, it began as a very funny spoof of the tv game show but rather quickly evolved into a competitive bout of magical trivia). In Las Vegas the fun extends well beyond the convention boundaries: I particularly enjoyed the Mac King show at Harrah's, Lance Burton's show at the Monte Carlo (you forget how truly magical dove productions can look, though I miss the levitations!), Cirque du Soleil's O at Bellagio, and lunch with Melinda and her new baby (What a cutie! Um, so is the baby!).
TRICKS WITH YOUR BOD -- Andrew Mayne continues to create and compile low cost (or in this case no cost) illusions, the latest in his new book, Body Morphin'. Many of these 18 illusions, done only with your body or at least parts of it, are stunts to do for your friends. (I can see them done professionally only if you are David Blaine or Criss Angel, and the "professional" venue is a street magic situation where you are walking away from a tv camera.) But ... David Copperfield used to open his show with "Wrist Rotation," and "Twist-O-Rama" is an Exorcist-type head spinning move that could be the feature of any stage act. $14.95.