ABBREVIATED -- On the one hand, first-year executive director Ron Spangler put together a first-rate 81st edition of Magi-fest, with stellar performance and lecture talent, a nicely eclectic and accessible dealer room, and innovative ideas such as a movie (Vincent Price in The Mad Magician), reasonably priced on site food, and an after hours party featuring eats and Disney street performer Brian Staron. On the other, I wasn't having the fun I normally do, weighed the idea of saving a night's lodging, and went home a day early, something I've never done at a magic convention. My leaving had to do with why I attend magic conventions in the first place, which is to congregate late into the evening with card guys. Two elements are necessary for this serendipitous groupfest to occur. First, you need a critical mass of like-minded magicians. This year, my favorite friends and idols from past Magi-fests simply weren't there. (I'll spare you the names.) Attendance was down in general, but I particularly missed expected regulars. Second, you need a place to gather, and it must be near or in a bar. I don't know why; it just does. (Perhaps this is why the Magic Castle is magical heaven.) Tables set aside in some cavernous ball room never seem to suffice, despite best intentions. It's just too sterile. Magic thrives best in nooks and crannies. Perhaps if we had been forced into the Renaissance bar this year it could have worked (the bar and surrounding fireplace and sofas were inviting, as was the food and beverage service), but it just didn't seem to be happening. Some of the best moments I've had in magic, I've had at Magi-fest, but those were at the Crowne Plaza, where we magicians owned the place for the weekend. (The gold standard for social serendipity was the central bar at the Galt for the combined IBM/SAM Convention in Louisville.)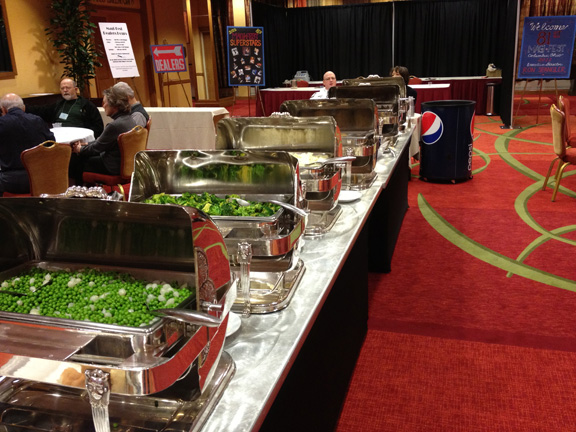 Food was handy.
But enough of my whining. On the positive side, Ron assembled some excellent talent, even including his daughter, Kelly, with a sweetly original linking ring routine. Among the highlights: I had just reviewed David Acer's More Power to You, and it was a kick to see all that come to life in closeup and lecture. A bespectacled, gangly young man with graying locks, David looks like a magical, slightly goofy Einstein. Francis Menotti, who died on stage (no, not that way; there was a knife in his back!), also shined in both closeup and lecture. One card trick in particular fried me, so much that I wanted to catch a repeat of his closeup show. Alas, this common practice (I think Mike Powers and I once caught Shawn Farquhar's act three times trying to figure out his Card to Sealed Card Case) was denied by the Red Coats guarding the doors and inspecting tickets. (Another knock to this hotel; the Mariott had at least one closeup room large enough to handle overflow crowds. The Renaissance didn't.) David Roth is the living legend of coin magic, with a lovely delivery that is always a pleasure to behold. In closeup he presented his classics: The Portable Hole, The Purse and Glass, The Tuning Fork, and The Planet. His subsequent lecture attracted and informed a large audience. Ivan Pecel is an amazing juggler who attempted stunts I've never seen or imagined, such as juggling three balls behind his back. Bravo! I enjoyed Disney World's Brian Staron and his nutty visual comedy, and I do regret missing his late night recreation of his Disney street magic. I'll try to catch him at the Boardwalk, where he works four nights a week. I also enjoyed a one-ahead routine by the very funny Derek Hughes; his word force, one I've often wondered about, looked great. And then there was Rich Bloch, who was maybe too good for this convention, maybe too good for magic. Some years back, when I interviewed Amazing Johnathan for a Genii cover story, I asked him to name his favorite male magician (comic), and he named Rich Bloch. Over the years, every time I've seen Rich, I've come to appreciate that response more and more. He killed this weekend in both closeup and lecture (I didn't witness his stage turn) with razor sharp, sophisticated humor, as well as with magician-fooling effects. Fortunately, many of his items were explained in his superb lecture notes, I Hate Rope Tricks. I rarely buy lecture notes anymore, but these were dandy.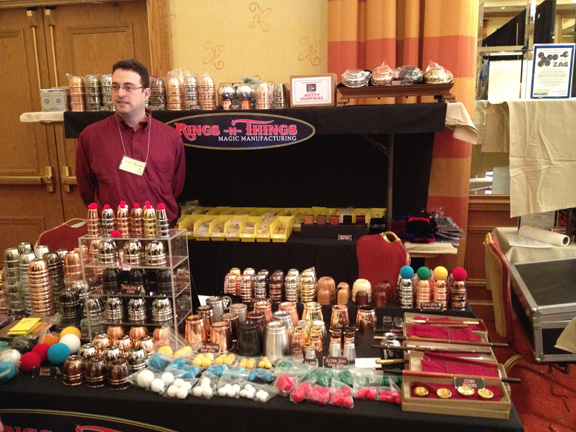 More cups than in Bill Palmer's garage.
Speaking of shopping, I loved the dealer room. Harry Allen always seems to drag his entire store up from Daytona. Richard Kaufman offered three great bonus books for multi-year subscriptions and of course was happy to discuss the first Genii bash, coming in Orlando in October. Eric Jones is the face of Ellusionist and was happy to demo my favorite effect from Woody Aragon's book. Michael Lair had a fascinating way to vanish a lighter. Mark Mason brought enough gaffed coins over from England to open a small bank branch. If you couldn't find the coin you wanted, Jamie Schoolcraft would make you one. Tony Miller keeps inventing wallets for you to find cards in. Chris Smith kept ripping his car key into innocent dollar bills. Kozmo performed street magic to enliven his DVD magazine signups. Pat Przysiecki sells closeup stages to the stars. Dazzling Magic sold me the perfect gift for a young nephew in London. Walking past Losander's booth, where furniture floated in midair, you couldn't help but feel you were in a scene from Harry Potter. Andy Greget's book nook probably outstocks the Hogwarts library, just as Rings and Things seemed to have more cups and balls on display than you would find in Bill Palmer's garage. And yet the set I bought was a unique one from Bob Little. And so on. A nice place to get your exercise walking laps around the merchandise.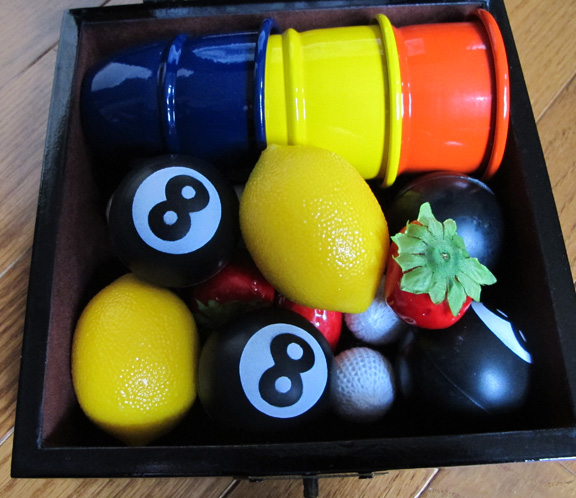 Colored cups, plastic fruit, rubber eight balls. Anyone have a routine?