MY DINNER WITH DERREN -- Derren Brown's Confessions of a Conjuror is a grand conceit. Its action is slight: the author, full of self-loathing at having to approach a restaurant table to inflict magic tricks on its occupants, finally does so and performs one card trick. (The trick is a good one, Derren's Three Card Routine from The Devil's Picturebook, and its reception is marred only somewhat because the alpha male of the party is in no mood to be entertained.) Attached to this slim framework is an ambitious stream of consciousness memoir, with numerous tributaries, the streams themselves interrupted by footnotes that go on for pages. The subject matter, always prompted by some aspect of the magic trick in progress, is wicked observational humor, more Larry David than Jerry Seinfeld, and always couched in eloquent flights of language.
... I am in the lift of my apartment building and happen to have a credit card or business card in hand. It occurred to me that on such occasions I habitually swipe the long edge of the card down along the millimetre-or-so gap between the closed lift doors just before they open. This allows me to pretend that I have myself caused the throwing wide of the doors, and in turn that I had gained access to a glittering private penthouse suite, by the use of the special key-card. Or a secret underground vault, very much like Batman's, but which contains all my mentalism tools, mind-control devices and general secrets. It depends whether I'm going up or down.
Derren's topics are too diverse to summarize, a random scattering including his reading list for the loo, an embarrassing celebrity encounter with Hugh Grant, ruminations on nose picking and bottom wiping, frustrations with hotel bath mats, early magic inspirations, and a Toy Story 3 encounter with a childhood toy, Mr. Bunny. Despite the book's target being the general audience (assuming there was any audience in mind), Derren tips most of how the card trick works, especially the psychology behind it. It's a terrific card trick, and the explanations herein make it a fine complement to the instructional video. All in all this is quite unlike any book I have ever read, in or out of magic. I suppose all of our minds wander as we do a card trick for the umpteenth time, but few, I suspect, have wandered as entertainingly or as informatively as Derren Brown's. Hardback, 329 pages, about $25 delivered to the U.S. from amazon.co.uk. Cheaper in the UK.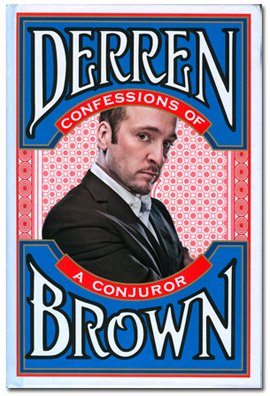 A la James Joyce.
SHOW TIME -- My early impressions of Derren Brown as a close-up magician (based on his books and instructional videos) didn't really prepare me for how much I would also enjoy his work on stage in a theater. Thanks to his three-DVD box set Derren Brown Live Collection I've just been privy to the best seat in the house for three of his live shows, Something Wicked This Way Comes, Enigma, and An Evening of Wonders. Derren connects with his young, good-looking British audiences with extraordinary personal appeal, refreshingly original and contemporary lines, and the occasional just-right expletive. And with material that devastates.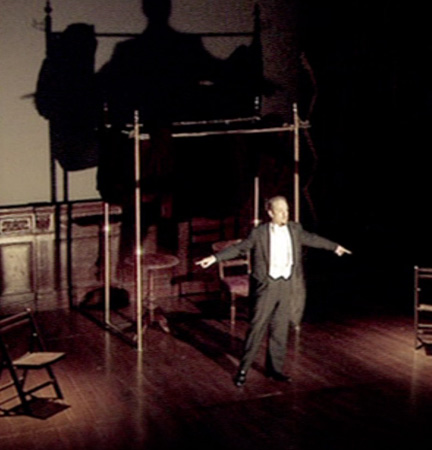 A Victorian Spirit Cabinet.
In Something Wicked, he not only walks on broken glass but lies on it as a large man stands on his head, he instantly counts dozens of buttons (think Rain Man) selected by an old lady who has just slapped him silly, and he predicts a word torn from hundreds of pages of newspaper. In Enigma, he makes a lady weep with a presentation of Coin in Ball of Wool, he presents such manifestations of somnambulism as suspending a fellow between two chairs and having a lady drink a glass of vinegar and scry the change in a man's pocket via automatic writing, and he presents a funny and eerie Spirit Cabinet in which all its occupants are random audience members. In Wonders (my favorite) a gorilla steals a banana sight unseen, a telephone subject divines the serial on a bill, and a table charges about the stage in what I assume is a genuine demonstration of table turning. Fascinating. Derren then stuns the audience with a dramatic staging of a levitating table followed by the Oracle act, a Q & A act he has done 114 times and has become very, very good at. Of all the fine things on these DVDs, this was the most worth watching, mentalism at its very finest. Robert Nelson once wrote a book called Sensational Answers, and Derren Brown provides such answers indeed.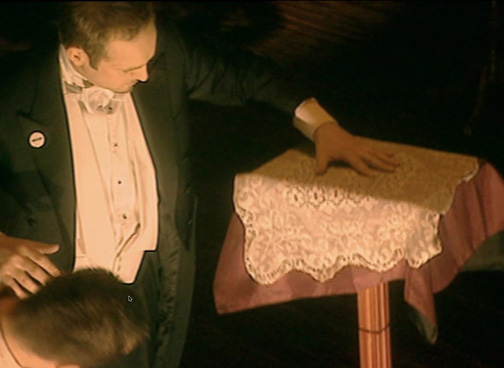 Lighter than air.
The lighting and sound effects for all the acts are appropriately creepy. Structurally, all three acts end with a different, surprising recap, a la Alex Elmsley's Dazzle act, in which Derren demonstrates that everything witnessed was predicted and inevitable, including what had apparently been minor screwups. Forget about Annemann and Corinda: these videos set the bar for how well mentalism can be presented. Must viewing.
Now, for the good news and the bad. This box set is available from amazon.co.uk for just under $30 delivered to the U.S., an incredible bargain. All three performances were beautifully shot and edited, and watching these DVDs is perhaps better than being there. The bad news is that they are Region 2 DVDs, so if you live in the U.S. you have to either own a multi-regional DVD player (perfectly legal and under $70) or monkey with the limited number of times you can change regions on your computer, as I did. I hope some warm room in hell is reserved for the movie industry attorney who dreamed up this punish-the-innocent and now quite outdated restriction. But do what you must to view these DVDs; you will be glad you did.