HAIL, COLUMBUS 2009 -- There is no better way to launch another year of magic than to visit with the friendly folks at Columbus's Magi-Fest, this year marking the 78th. Quite a run. Comments follow ...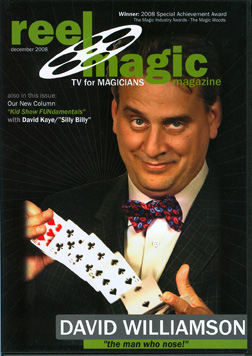 David Williamson gets reel.
DEAL OR NO DEAL -- The Dealer's Room is the social center of any convention, and this one was no exception. Items that interested me: Abbott's let me play with a set of Fakini Multiplying Golf Balls; very nice. Kozmo has put out four issues of his Reel Magic DVD magazine since I saw him in Louisville last summer. Delightful interviews with Dean Dill, Johnny Thompson, David Williamson, and Richard Turner, funny rants with Simon Lovell, enticing product reviews with David Regal, great card tricks and moves, and much more. These are such a bargain at about $10 apiece. Pat Przysiecki (is this the toughest name to spell in magic?) displayed gorgeous close-up mats in a variety of sizes and shapes, my favorite being a 35 by 11 inch mat for bar work. He makes custom sizes, for you or for such recent clients as Allan Ackerman, J.C. Wagner, Doc Eason, and Bill Malone. Mark Mason demoed the heck out of Bob Swadling's Blindspot, a cool coin in bottle effect. Bob Little always has stuff no one else has, and I was happy to walk out with one of his tins from the fifties, shown above.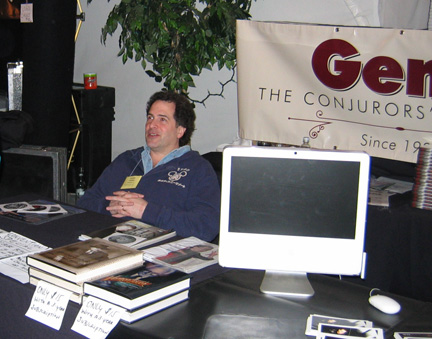 Richard Kaufman socializes with subscribers new and old.
Meanwhile, Genii magazine signed up enough new subscribers to warrant Richard Kaufman's return next year, and the videos from Sorcerers Safari magic camp made me wish I were a kid again. And finally, Tony Miller, legal this year with a mini booth in the Dealer's Room, featured The Modifier, a device that will turn virtually any wallet into a Card to Wallet. Extremely practical. This is just a smattering, and the dealer traffic would suggest that no one knew a recession was going on. (Oh! Andy Greget, bless him, brought only two copies of The Little Egypt Book of Ghosts, and they sold the first day. Thanks, guys.)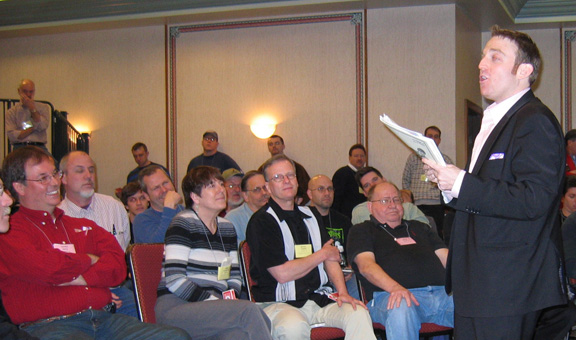 Aaron gets into tension, focus, and design.
SCHOOL DAYS -- As I get older and suffer Old Dog Syndrome, I attend fewer and fewer lectures, yet did find much of interest in those I attended this year, including Andrew Goldenhersh's guitar playing, Shawn Farquhar's matrix method, and Mark Mason's force and card steal. But the Reason to Attend Magi-Fest lecture was Aaron Fisher's. Aaron walked us through much of The Paper Engine, portions of which are appearing in greater depth on DVD. It was a delight to witness Search and Destroy, The Nowhere Pass, Bluff Replacement Subtlety, Revolution Number Nine (with its beautiful, easy color change), the Gravity Half Pass, and The Long and Winding Trick. A fine lead-in to that last trick was Aaron's marketed Panic, his killer deck vanish. Much of this is within mortal skill levels and well worth your time.
SHOW TIME -- As usual for me, I snubbed the big show (I don't enjoy bus rides to remote theaters), but saw plenty of fine magic in two and a half days anyway, including Mark Mason's card magic, Scott Francis's sight gags (I loved his arm routine, sort of like Rudy Coby's Lab Man but with four arms instead of four legs, and his singing "Summer Love" with an Axtel cartoon), Shawn Farquhar's Signed Card to Sealed Deck (I attended the Close-Up Show three times to try to figure this out), and Andrew Goldenhersh's Bill to Butterfly, Hare from Hair (sounds like the title to a Bugs Bunny cartoon), Needle Swallowing, and foul (sp?) Straitjacket Escape.
AN EVENING AT THE HEAD TABLE -- In the mammoth David Ben book Zarrow, Persi Diaconis discusses the pecking order of the tables at the cafeteria on 42nd Street and Sixth Avenue, in the golden age of New York City card magic, when the "big guys" table belonged to Howie Schwarzman, Ken Krenzel, Frank Garcia, Harry Lorayne, and others, often including Dai Vernon. What a thrill it must have been to sit at that table. At Magi-Fest, Mike Powers and I, along with others, experienced a glimpse into the history and into the greatness that defined that era. Our escort was Howie Schwarzman, and it began at the bar: Howie placed two half dollars into his small hand, one coin with two heads, the other with two tails. A squeeze, and the two coins became one, with a single head and tail. Another squeeze, and the coin evaporated. Howie then moved us to a table for a divination effect with a pencil stub in a matchbox, followed by a card visibly penetrating a slatted frame. All this a prelude, of course, to the sleight of hand by a guy who, at 81, can still do "everything he could at 80," whether it's flying a plane or skidding two cards as one across a table. Here was the real work on the Spread Pass, the Bluff Bluff Pass, the Elmsley Count, and how to pick up a deck from a glass-smooth surface. Here were demonstrations of the S.W.E. Shift, Howie's Impeccable Double and Impeccable Prediction (from Cliff Green's Professional Card Magic), his Night Risers, his Night Visitor, and a devious One Card Across routine. Some he performed, some he performed and taught, and always there was the clear, underlying, why-didn't-I-think-of-that? logic. It's not the big shows, but this little stuff that makes a convention stand out. This was one for the record books.
TABLE HOPPING -- It wasn't that the other tables weren't busy. I paused for a while to watch Tom Gagnon show Andrew Goldenhersh his original table pass and its uses. I couldn't get close to the table where David Williamson was sitting, so don't know if he was performing or just enjoying himself. But I did get to sit for a spell with Caleb Wiles, a highly original magician from Indiana. Unlike other young magi who like to show off superhuman moves and flourishy cuts, Caleb invents devious, practical, commercial card tricks. He showed me a baffling routine in which cards from shuffled halves match, and he explained a most practical approach to Deep Astonishment. Now out of school and a full-time math teacher, Caleb has been working on a book, and I predict it's going to make a big splash. Very cool material.
MISSING IN ACTION -- The most notable absence this year was that of Joshua Jay, who I assume is still on his book tour. Nick Trost of course is no longer with us, but his fans are in for a treat as reported elsewhere. I failed to spot, if they were there, Tom Craven, Andrew Martin, and John Born, all fun presences in years past. And the Reed girls were noticeably absent until the last day. (On Saturday night I was watching a young magician in the lobby performing a card trick for one of his friends. Suddenly the lad's patter stuck in his throat and his hands on the cards froze. "What's the matter?" his friend said. "The Reed girls just walked by," the magician said. Hmm. They do have an effect.) I spoke with the family, and the exciting news is that the girls have been booked to perform on the French Riviera. Congratulations to all, and Magi-Fest should feel a bit of "parental" pride in their success.