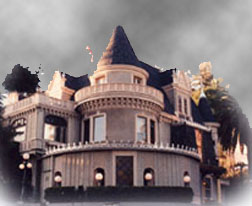 Dark skies
CASTLE INTRIGUE -- On January 8, Diana Zimmerman and a band of cronies went public with what had been rumored to be a hostile takeover of the Magic Castle, a move which would wrest financial control of the Castle from Milt Larsen (who created it) and the Academy of Magical Arts (which has successfully run it for 40 years), or some such shenanigans. The exact details of what they want still elude me as well as most of the AMA, despite published interviews in the March issue of Genii and several meetings to date. Perhaps she added hypnotist Peter Reveen to her gang to mesmerize Tom Glover into thinking this was somehow a good idea. The affair has been proposed, in Diana's words in this month's MAGIC, as a "win/win/win" situation, which raises the question of why the heck she thinks she is entitled to share in one of the wins. Whatever, the whole thing smells. Oh for the days when retribution for such activity ranged from banishment to one's head on a stake. Underhanded negotiations aside, the bottom line is that if the Magic Castle can no longer generate sufficient money to make the Glovers happy, it's time to move. Where Milt leads, we shall follow.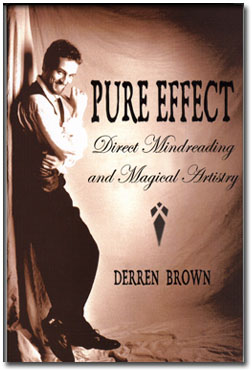 Dance with the devil
PURE GOLD -- It was my pleasure last September to review Derren Brown's Absolute Magic, a book devoted mostly to philosophy but which also alluded to many fine magic effects in the passing (including the strongest version of "Ambitious Card" I've encountered). That book keenly whetted my appetite for The Devil's Picturebook, Derren's three-hour video that tips his professional card repertoire. And that fine video experience--ground breaking sleight of hand, ground breaking psychological effects, and utterly charming presentations--led to my purchasing Derren's earlier book, Pure Effect, which contains versions of many of the routines on the tape. You will want both. The video contains such gold as "Smoke" (a thought-of card becomes the cigarette you are smoking), "Zamiel's Rose" (an updating of the book's "Zamiel's Card," virtually guaranteed to get you kissed), "Mike's Move" (a card control that may make you forget every pass you ever learned), and much, much more. Derren performs each routine for real people and then discusses the methods and philosophy with his friend Peter Clifford. The book contains not only the core of the material on the video (and more), but also exposes the reader to Derren's incisive wit and enviable writing. When you hear Eugene Burger's voice described as "that characteristic mellifluous blend of rich baritone timbre and erudite camp," how can you not move eagerly on to the next sentence? The video is 40 pounds directly from www.derrenbrown.co.uk (for me about $73 pp), and the book is $40 from H&R Magic Books.
SMALL WORLD-- Despite a noble attempt at a diet, I recently dined with my mom at Lambert's, in Sikeston MO, known to Travel Channel buffs as the number one place in the U.S. to pig out. They throw rolls at you. Our waitress on this occasion was also the mother of Morgan, of Morgan and Mikala, who competed for the U.S. at January's WMS. Morgan was immediately signed up to tour in China along with Juliana Chen, Kevin James, and Jonathan David Bass. It was cool to encounter a waitress who blithely dropped such names. Pay Morgan a visit at www.thepeoplesmagician.com.
February 2004
The black clouds hanging over the Magic Castle have depressed me sufficiently to want to leave magic, a mood at least partly lightened by the sunshine pouring from my mailbox. I am particularly pleased this month to discuss goodies from Derren Brown, Martin Lewis, Tommy Cooper, and Bill Abbott. And don't overlook Jason Latimer, cover boy for the March Genii.
BEFORE THERE WAS MONTY PYTHON -- Growing up in the early sixties in magic meant watching Ed Sullivan each week in hopes he would have "something for the kids," which was pretty much how he introduced such magicians on the show as Jay Marshall, Fred Kaps, and Richiardi. One of my favorites was Tommy Cooper, a zany Brit with a wrestler's physique, a booming laugh, and a red fez. I recently discovered that Amazon carries three videos of Tommy Cooper in action and immediately ordered The Best of Tommy Cooper. Tommy Cooper was the second funniest magician of his era (after Ballantine), and it's a delight to revisit his classic routines. $20.
STAGECRAFT -- One of the pleasures of spending a weekend with Martin Lewis, in preparation for my September 2002 Genii story on him, was to watch Martin perform and explain some of his classic stage routines. You can relive this experience with Making Magic/The Stand-up Creations of Martin Lewis Volumes One and Two, DVDs available from Martin or your favorite dealer. These DVDs are doubly a bargain, in that strong commercial standup magic is very hard to find at any price and because these tricks, if bought over the counter (instead of following Martin's excellent manufacturing instructions), would cost you far more. "Crystal Gazing" retails at $200, "Big Switch" at $30, "Halve-It" at $45, "Comedy Card Stab" at $95, "The Comedy Comeback Card" at $40, "Technicolor Prediction" at $40, and the wonderful "Cardiographic" at $125. (In the latter, the touch on making the card rise, with no hand or body movement, is brilliant.) My favorites on these DVDs are (1) a routine in which a card vanishes from an envelope and appears inside a bottle held by a spectator and (2) another in which you show both sides of your hand, sleeves rolled up, and produce fans of cards. No skill, just magic! $35 each.
CLOSEUP CLASS -- I see a lot of DVDs these days, many by magicians I've never heard of, and too many by magicians who should not really be performing, much less teaching. A few nights ago, just before bedtime, I popped a DVD into the computer titled Bill Abbott Performs Close-Up for Kids. I must confess to low expectations. First, I had never heard of Bill Abbott (my fault, I'm sure, not his). And second, just about everything I have ever read or viewed in magic on how to perform for kids has been pure crap. (Turn to the "kid show" section of any magic catalog and retch at what you see.) Well, big mistake! Bill Abbott completely enchanted both me and the families for whom he was performing, and the DVD carried me deep into the night. Specifically, Bill Abbott does not perform "down" to the kids, but respects them, listens to them, and cracks them up with solid commercial material. Over 25 years ago Sesame Street realized that kids have pretty sophisticated senses of humor, something most kid show magicians have never grasped. The DVD contains presentations for stuff you know, such as the sponge balls and the Don Alan card stab, and Bill Abbott makes it all fresh and wonderful again. Two of the routines will immediately go into my adult repertoire. And in case you have forgotten (if you perform mostly for drinking crowds in bars, as I do), Bill Abbott also demonstrates how much fun it is to perform for kids. What delightful audiences they make. Note that this DVD could easily have been marketed as a course for performing magic in restaurants, as the magic is appropriate for "kids of any age." Bravo! $35.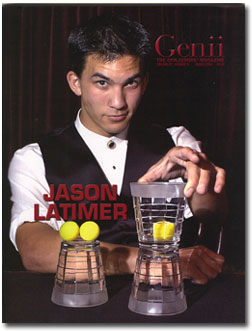 Student project
CLEARLY A CHAMPION -- The March Genii, which should be in your mailbox by now, features Jason Latimer, who won FISM last summer with his incredible clear cups and balls. Also featured is Joe Porper, whose split linking rings are an important element of Jason's stage act. Check the issue out for all the juicy details.