CAMP COLON -- The printed program for the Seventy-Fifth Annual Magic Get- Together sponsored by Abbott's Magic Company contains some delightful reminiscences by the likes of Stan Allen, David Seebach, David Linsell, Ardan James, Tom Mullica, Eugene Burger, and Mac King among others who also happened to be performing and lecturing this year. My own relationship with Abbott's (the company, not the Get-Together) goes back pretty far, beginning with a subscription to the The New Tops with its inaugural issue. My favorite columnists back in 1961 included Gene Gordon, George Johnstone, Sid Lorraine, Don Alan, Bob Nelson, Monk Watson, Tommy Windsor, Nick Trost, Neil Foster, Aldini, Dorny, Ren Fetzer, and Karrell Fox. Ed Marlo would later add to the list. The best trick I purchased from Abbott's was C'est Terrifique, which allowed you to turn a top hat into a bowl of goldfish. The best trick that I wanted but couldn't afford was Abbott's Chopping Block, which allowed you to chop off your assistant's head with a meat cleaver. I think it was $67.50, almost as much as a Super-X at $72.50.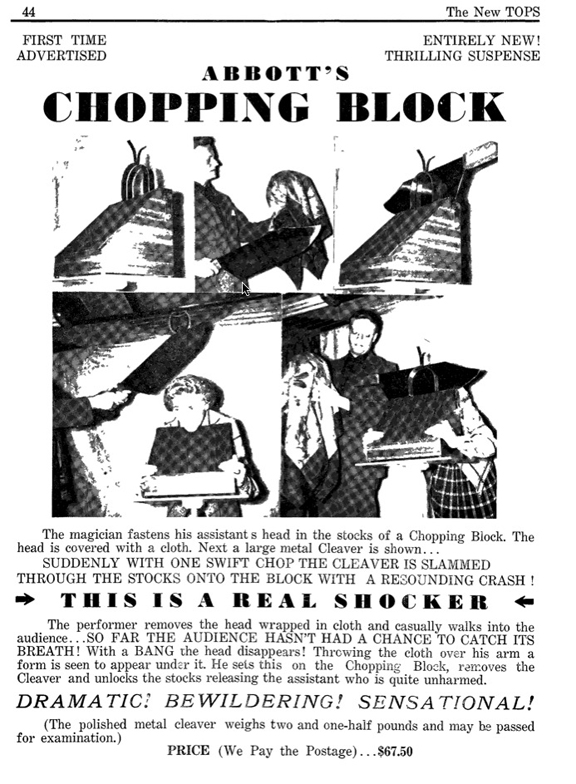 Childhood ambition.
Eventually, college interrupted some of my magic relationships and dreams, and I drifted away from my monthly association with a fine magic company. And those days were long before I had sufficient disposable income to attend magic conventions, hence I never attended one of those rustic Get-Togethers that I read about, featuring the likes of Duke Stern, Karrell Fox, and Jay Marshall.
Until this year. Abbott's 75th boasted a strong lineup of talent including Mac King, Michael Finney, Eugene Burger, and a gang of Long Beach Mystics, and Google Maps informed me that the place was only four hours away, so I figured it was time to trek into the boonies of Michigan and see what it was that made so many magicians not only want to party there but to be buried there. Talk about loyalty.
Regular attendees to the Get-Together tend to bunk with local citizens, both magicians and Muggles, which is not my cup of tea, hence I bunked twenty miles away in Coldwater in a Red Roof Inn whose location baffled my GPS. Given this, my first view of Colon came after a drive through the backroads of Michigan, past a few corn fields, until I came upon the main drag of a population-1200 village that reminded me of Hogsmeade in the Harry Potter series. The town revels in its association with magic, and the local ice cream parlor and pubs catered to our needs by advertising in the official publications and staying open late so that we could socialize and swap card tricks. The Amish folks seemed tightly integrated with the rest of the Colon community, and it was nice to see a young Amish couple laughing heartily at Bobby Maverick's brash street magic humor. The dealer room was in the local elementary school, and the lectures and shows were held in the high school. (You sat either in the bleachers or on folding chairs on the gym floor, not comfortable, but no one complained, and the savvy brought Bingo cushions on which to sit.) Stars bearing the names of magicians lined the sidewalks a la the Hollywood walk of fame, and the ghosts of Harry and Pete Blackstone, Jack Gwynne, Duke Stern, Bill Baird, Recil Bordner, Monk Watson, Robert Lund, Karrell Fox, Don Alan, Ricki Dunn, and Hank Moorehouse, among others, awaited in the cemetery. The town provided considerable fire and police assistance, filled the gym with lay audiences to complement the magician audiences, and set off fireworks after the Friday night gala.
Along with Abbott's, the program guide listed five invited dealers, but that hardly accounted for the dealers present. First, this tiny town counts not one but two full time brick and mortar magic dealers (the other is Rick Fisher's Fab Magic), and second, a parade of front yard dealers set up shop on the street leading to the high school. I don't know enough of Colon politics to know whether all these dealers were considered as parasites or as bonuses, but the average attendee seemed to enjoy them. Non-Abbott's related magicians did street magic, and both Fab Magic and independent pubs hosted their own talent shows.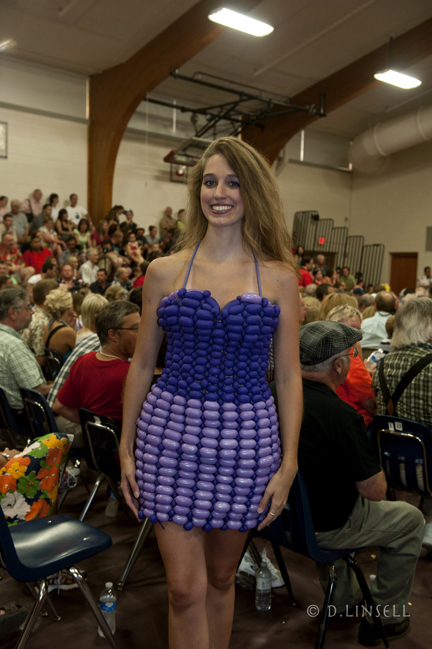 Some of the guests made fashion statements.
As to the formal program, the undercurrent was an homage to 75 years of magical Get-Togethers. It would not be out of place to see Professor's Nightmare, Clippo, or the Six Card Repeat performed, or a classic manip act such as Dale Salwak's, the act that most reminds me of Neil Foster's. A few of my favorite moments follow:
I arrived early to catch Gabe Fajuri's lecture on Abbott's history, with its surprising revelation that Percy Abbott had a family (wife and children) in Australia before abandoning them after an evening show and bolting to America. This family is wholly unmentioned in Percy's autobiography.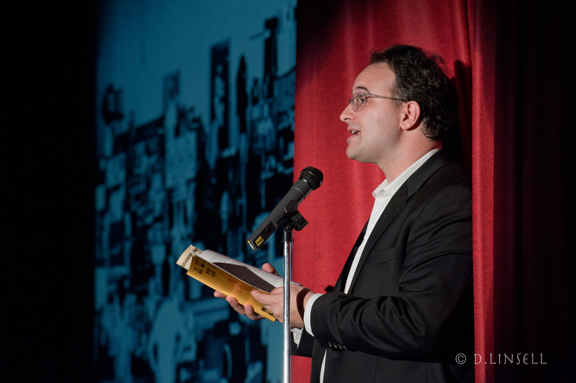 Gabe reveals Abbott family secrets.
Usually it's the juggler who steals the show; this year it was the photographer. David Linsell received the first, most spontaneous, and longest standing ovation of the weekend for his photo tribute to 75 years of performances, mostly with his own photos. David has established himself as the go-to photographer for any modern magic convention.
David Seebach oversaw a delightfully spooky spirit cabinet routine, always one of my favorite exhibitions. David is great at the spooky stuff.
I considered skipping the talk by Adele Friel Rhindress, the one-time assistant to Blackstone, Sr., (for three seasons) as I had heard it before, but I'm glad I didn't. She managed to raise a lump in my throat with her story. Just a lovely lady, and most straightforward.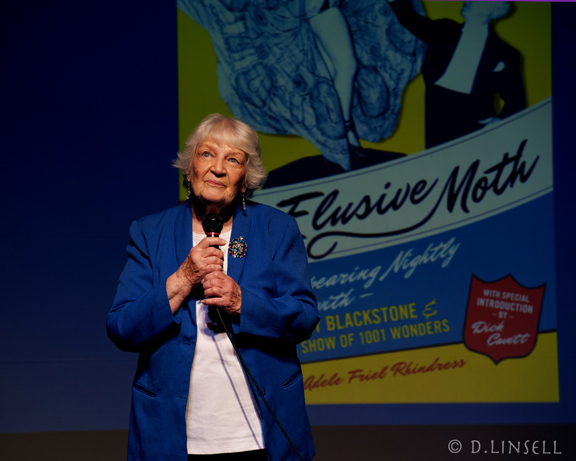 Veteran box jumper.
In the context of a card trick, Gay Blackstone introduced all the Blackstone grandkids. A nice bunch!
David Charvet became Harry Blackstone, Jr., for two classic Blackstone routines, the Bird Cage Vanish and the Dancing Hank. Time turned backward as Harry walked again. I had seen David a year ago with the Buzz Saw illusion and knew how amazing the resemblance was.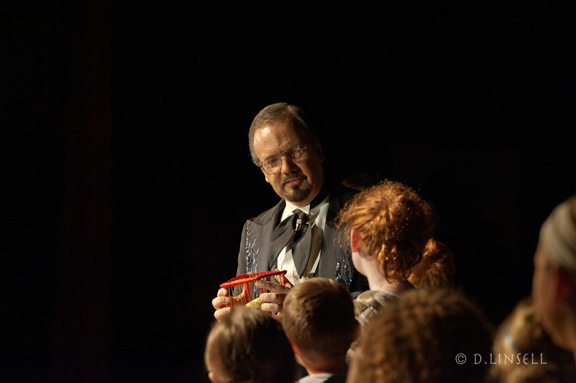 David Charvet becomes Harry Blacktone.
I watched some of the Abbott's stage contest (one year its one-two-three winners were Lance Burton, Jeff Hobson, and Mac King) and would definitely have placed a youngster, whose name I think was Caleb Boyer, ahead of the eventual winner. I never pick the right guy at these things.
Tom Mullica was transcendent. Years ago I didn't like it that Tom gave up magic to do Red Skelton full time. I thought, why be the second-best Red Skelton when he could be the first-best Tom Mullica? After seeing Tom do a substantial bit of his Skelton show, I stand corrected. I think he is now the first-best Red Skelton. Although he nails Red's voice and appearance, Tom's own humor and heart shine through, and the result is even funnier and more endearing. All of us, as Red and Tom both no doubt said at one point, had tears running down our legs.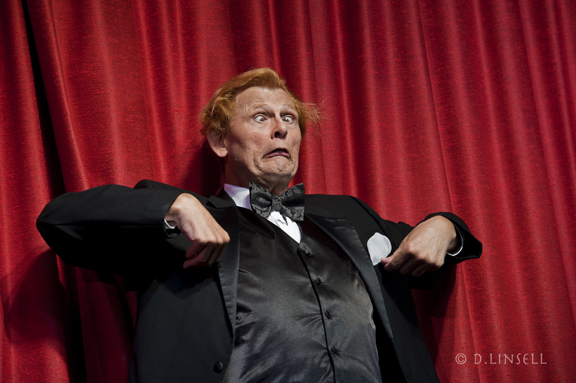 Tom Mullica becomes Red Skelton.
Stan Allen, freshly back from the EMC in Portugal, proved once again that puppetry can be magical. Many around me hadn't seen Stuart before and were amazed.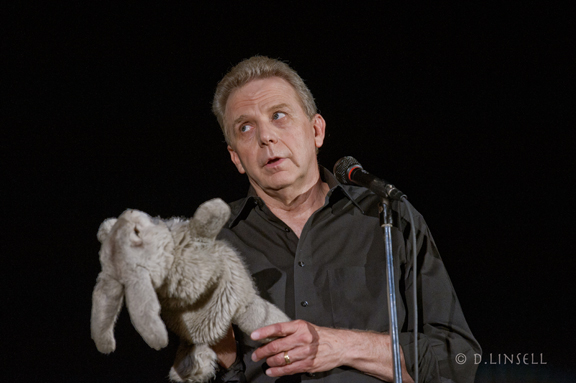 Stan entrances a bunny.
Dana Daniels performed his whirlwind trifecta No Show, of which I crack up at the magic trick endings only. Dana has a funny parrot named Luigi, but not as funny as the foul-mouthed mechanical parrot I saw at Curly's (it kept squawking, "Polly wants a blow job" and other such witticisms).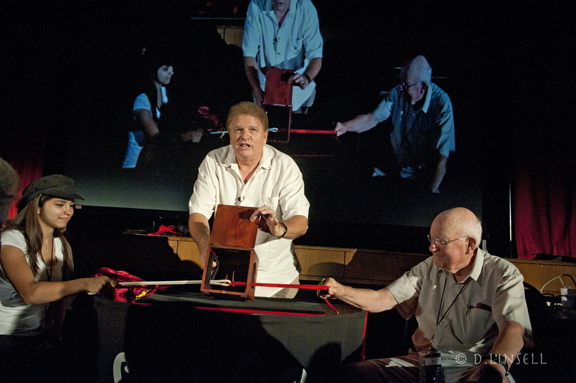 Dana also did a closeup stint.
Tina Lenert rocked the gym with her lecture on connecting the dots. Does anyone else her age in magic look that good?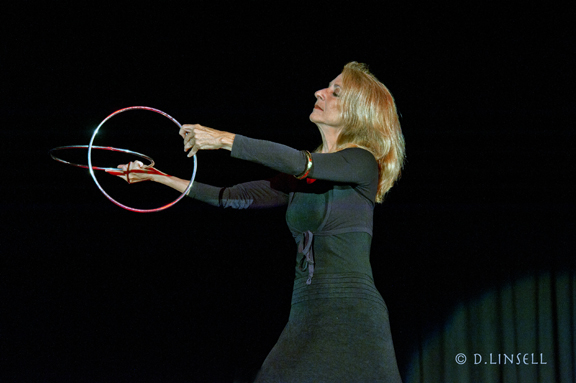 Tina sticks to the classics.
Ardan James creates magical effects with his body. His hat routine and his balloon routine are amazing feats of mime.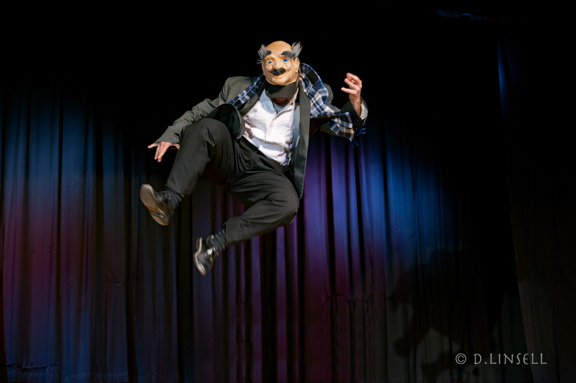 Ardan James defies gravity.
Michael Finney amazed me by getting away with his Lady Rope Routine for this very family-oriented crowd. He later taught it in his lecture.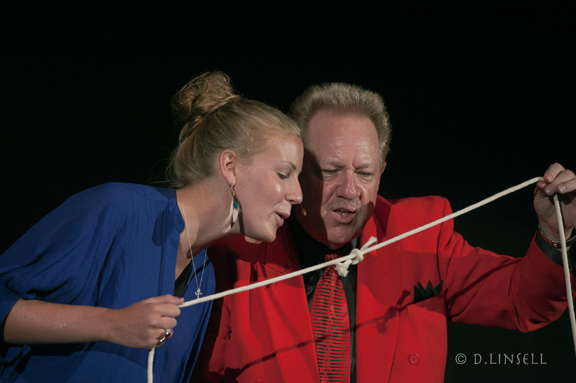 If I was a knot, I'd be gone.
Mike Caveney fools me more than any other magician working today. I just don't know how he does what he does. (But maybe I will some day! See an important announcement in the EMC portion of this issue.) It was fun to see him do a closeup routine as well as a few of his standup classics.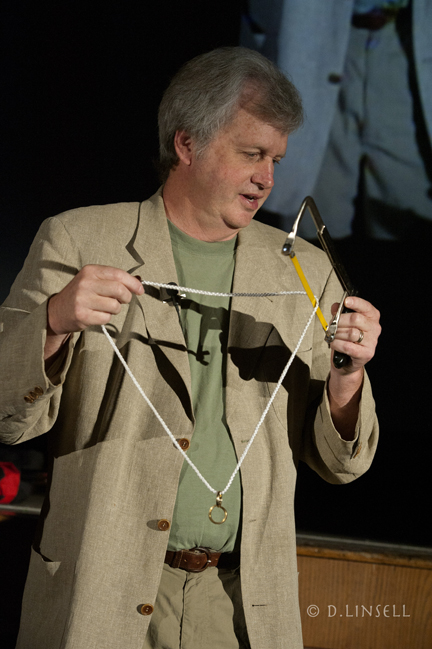 Mike's close-up trick goes haywire.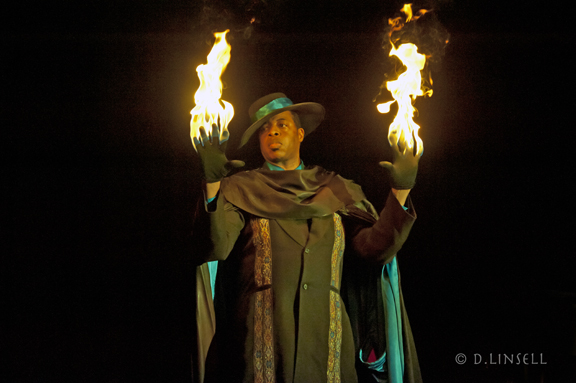 Victor is a Long Beach Mystic and a former Abbott star.
Although I have seen bits and pieces many times, this was my first time to see Eugene Burger do a complete closeup set. Sooo mysterious. This was worth the drive up.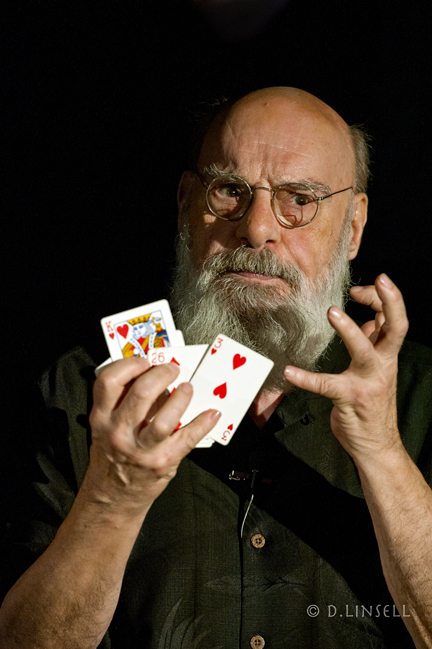 Eugene gets serious.
Mac King. This is the strongest act in Las Vegas and one that drives me crazy because Mac can do his entire show out of a little suitcase. Mac deviated from his norm by introducing his plaid suit as Jay Marshall's old suit rather than as his grandfather's. This led to several great lines throughout his act.
Let's see. Which thumb goes on top in the Thumb Tie?
The three funniest Mac King lines that I've never heard Mac King say before:
"The scariest hour of the day."
"We don't even have girlfriends."
"There's a little bit of Frances in there."
You had to be there to understand the context, but these were all screamingly funny.
Above and beyond the nuts and bolts of the weekend, this was an amazingly friendly convention. Everyone felt welcome, and I loved chatting with friends old and new. Some went way beyond the call of duty, such as Jerry Costello and his wife who threw two great parties at their cottage on the lake. But let's take it back to Abbott's, to Greg Bordner and the others in that black building with the skeletons on the front. They have been doing this a long, long time, and have created a family of magicians who regard Colon as their home away from home. My personal "homecoming" to Abbott's occurred on the first day, when I laid eyes at last on an Abbott's Chopping Block, the trick I had coveted back in my teens and which is only recently back on the market. As it is now $895, I can still only covet it, but it was oh so cool to finally see one.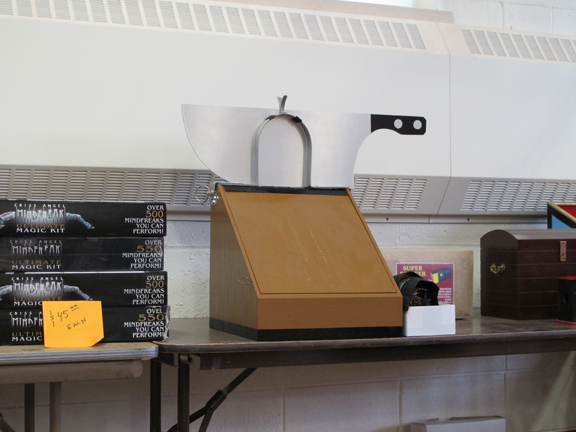 The Chopping Block from my childhood.