OH, WHAT A TANGLED WEB WE WEAVE -- I have stated before that six of the most enjoyable full evenings of magic that I have experienced were experienced at the Brook Farm Inn of Magic. The scheduling was ideal. All dinner seatings were at the same hour, and a close-up magician (my fav was John Kennedy) would greet you at your table with a quick miracle (John killed me with his Quarters to Glass). Following an excellent meal you stayed in your seat and settled in for the big show, a full evening of outrageous audience interactive tag team magic from Steve Spill and Bob Sheets. You might have seen a slapstick sub trunk routine complicated by flatulence, you might have seen a lady from the audience rising in the air despite her being convulsed with laughter as the magi swooned from whiffing her footware. Post show you could linger in the bar for still more close-up magic.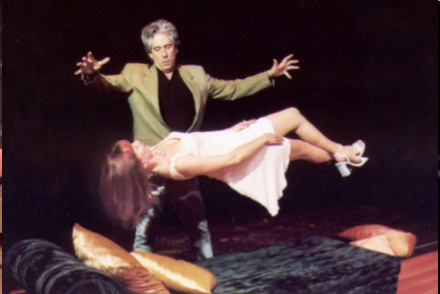 Let's see Copperfield do it this close.
In his new collection of reminiscences, I Lie for Money, Steve Spill recounts the venue's storied past, logs its 1450 performances over five years, and reveals that the classic sub trunk and levitation gags were organic, evolved during performance. (Glad I wasn't helping with the trunk!) But that's only five of Steve's sixty years and counting, and the book also encompasses Steve's childhood performance days, his Highdini rock and roll openings, his Jolly Jester days with Sheets (loved the Matt Schulien-like practical jokes), his Magic Castle days, his comedy club days, his Carter's Magic Cellar days, his travels galore, and his nearly two decades as major domo of his own venue, Magicopolis in Santa Monica.
I was an instant fan, because Steve performed the screwball, somewhat gross, always hilarious pieces that also characterize the best of Amazing Johnathan and Harry Anderson. How could you not love seeing "a skeletal, smoldering, blown apart bunny" produced from a hat, the Rice Bowls performed with two halves of Timothy Leary's brain, or the stylings of an incontinent mindreading goose? (The book also includes a selection of ideas that did not work, my favorite being the Vomiting Milk Trick. What goes down must come up! There are times you simply do not want audience participation.)
That Steve should have grown up to become a magician should have surprised no one, given that he spent his teen years hanging at the Magic Castle in the company of its Golden Age superstars. Steve's dad, Sandy Spillman, was an early Castle host and seance medium, and this gave Steve access to legends. A favorite chapter in the book is his memories of Dai Vernon, Kuda Bux, Carazini, Slydini, Charlie Miller, Senator Crandall, Francis Carlyle, and Albert Goshman.
A personal note. Two other gents of that era were Joe and Ronnie Berg. Joe would refuse to sell stuff such as a cigarette dropper to the young Spillman kid, while Ronnie jumped at the chance and claimed Cardini gave the thing to Joe on his death bed. I used to do a Card to Envelope trick producing the card from "a letter from Haiti," complete with stamp. As a gag I would offer the stamped envelope to anyone wanting to start a hobby. Only one person ever took my offer -- Ronnie Berg.
Nearly two decades of Steve's six-decade story are devoted to his dreaming up, designing, building, operating, and starring in his own performance space, Magicopolis. A delightful bonus was that he met his life partner Bozena along this path, and she is a major part of the show (and much cuter than Bob Sheets). I regret not having experienced it yet person, but nevertheless enjoyed its descriptions including large-scale illusions along with Steve's classic parlor routines.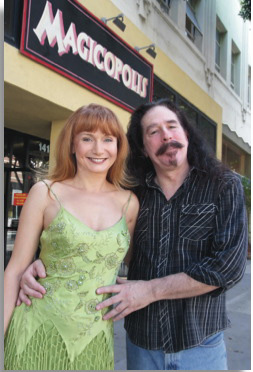 Bozena and Steve.
A life of performing is a life populated with interesting characters, not all of them human. There are riveting accounts of a tiger cub latching onto the pilot's head in a four-seater airplane, of poultry cruelty re Doolittle Wilder and His Dancing Chickens, and of one of Brett Daniels' macaws spontaneously joining Steve's act. Unforgettable patrons ranged from a disturbing fellow who took the Magician's Insurance Policy way too seriously to a Baptist "not allowed to watch magic" (reminds me of the Baptist edict against people having sex standing up, because it might lead to dancing) to a tribe of jungle natives straight out of a Tarzan movie. And then there are the celebs, dozens of comics, magicians, singers, and actors, with anecdotes on Stephen King, Cary Grant, Mort Sahl, Sara Gilbert, Joan Rivers, and Bob Dylan. Nice company!
If you haven't guessed by now, I really like this book, another in the recent string that included Mike Perovich's A Vernon Companion and Ron Wilson's Tales from the Uncanny Scot. These are more fun than books of card tricks. It isn't an entire biography: by design Steve included only the fun, interesting stuff. He cleverly weaves the patter from his signature tricks, such as his Bill to Lemon or Mindreading Goose, into the narrative, and this gives the reader a sense of "being there." I Lie for Money is a hardback from Skyhorse Publishing, aimed at the general public. Available from Amazon. $24.99 but discounted to $18.62. (I look forward to a sequel. I was told that they had a matinee at Brook Farm, a pizza meal for kids only--no parents allowed. I'd love to hear more about that show.)