Support your local librarian.
Each bloke occasionally publishes, and this month we call attention to a recent e-book from Bill Goodwin, titled Evolution. Among the best of the book's sixteen titled routines, there are four dealing with an easy turn around move, six dealing with a Spectator Cuts to the Aces plot accomplished by math, and, my favorite, three dealing with a plot titled Duplex, which originally appeared in the August 2006 issue of Genii. This is my trick-worth-the-price study and one which is just plain fun to perform (even alone in your room!). Basically, you deal the ace, two, three, and four of clubs in a face-down row on the table. The spectators may call out any value, and you can make that card penetrate the card adjacent to it. In the basic routine, the effect ends with the cards lying face-up on the table. Variations involve a different initial layout and a great ending by Gordon Bean in which the four of clubs penetrates the entire deck. My preference is to perform the basic Duplex first and then repeat with the Gordon Bean finale. The change ups in method and the overall fairness of the penetrations make for delightful magic, all rather easy to perform.
By William Goodwin with inputs from Larry Jennings, Helder Guimaraes, and Gordon Bean. E-book, very well written, illustrated with copious color photos, 68 pages. $19.95 directly from billgoodwinmagic.com.
WAS THAT THE SAME 4F CLUB WE HAD IN HIGH SCHOOL? -- Fechter's Finger Flicking Frolic, also known as the 4F Convention, birthed by Eddie Fechter, Bill Okal, and Obie O'Brien at the Forks Hotel in Buffalo, is one of the premiere and oldest closeup conventions around, an invitation only event held every year since 1971 and going strong. To my regret, I have never attended, and to my particular regret never saw Eddie Fechter in action. From the stories over the years, considering his personality, his venue, his style of magic, I have always thought of him as a sort of East Coast Matt Schulien. Ideally, a little of him lives on at 4F, and 4F lives on through the outstanding efforts of Obie. This year's guest of honor (there has been one every year since 1977, beginning with Jim Ryan), in just a couple of weeks, will be David Stone.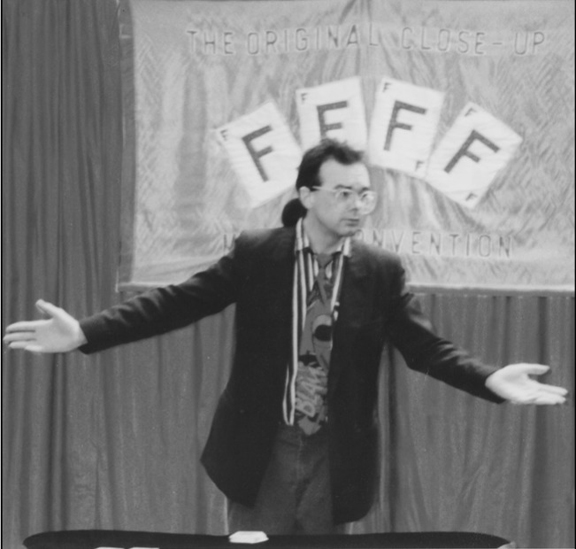 The head lemming.
At some point along the way someone had the idea to compile a book of contributions from 4F attendees. The book was planned for the twentieth anniversary, and 4F is about to celebrate its forty-second, so, perhaps a record gestation? Nevertheless, it now weighs in at 325 pages and is about to be launched by H&R Magic Books. As expected in a book of sixty-two items devoted to closeup magic, there are plenty of card and coin tricks. There are also tricks with business cards, matchbooks, rope, dice, bottle caps, silks, finger rings, flash paper, a jigsaw puzzle, a red bucket, thimbles, and words. A few of the routines, such as Paul Gertner's Unshuffled, have been published elsewhere, to be expected given the long road to publication.
Several items rated special interest, including a couple of outright gags, such as Eddie Fechter's Three Little Devils and Ed Eckl's Red Bucket, a container of sight gags. On the bucket is the number 144 ("That's just gross!"). The most ingenious item is Pit Hartling's Unforgettable which also appeared in Pit's Card Fictions. Alas, it requires a few faros, but it is still amazingly clever. Bill Goldman's Karate Match is perhaps the best of the Karate routines. Mike Skinner's Hay-Dai Stack illustrates the level at which a young Mike Skinner worked. Steve Cohen's Too Puzzling is a nifty trick with a jigsaw puzzle. I also liked Scott Wells' Heartburn (a romantic piece with some flash paper) and Tom Ogden's What I Could Have Had (a routine with cherry tomatoes).
But it's the memories, not the tricks, that I think will make this book special to former attendees or to anyone who wishes he could have attended. The section "A Few FFFF Pranks and Flops" contained some very funny reminiscences (too bad for Obie that he was often the target!) that had me laughing out loud. Even more special, the feature that will make readers treasure this like their high school yearbooks, are the photos strewn throughout. Here are the likes of Eddie Fechter (of course), Del Ray, Larry Jennings, Obie O'Brien, Jay Marshall, Frank Garcia, Simon Lovell, Shigeo Takagi, Lennart Green, Phil Willmarth, Gene Anderson, Juan Tamariz, Daryl, Roger Klause, Steve Beam, Mike Rogers, Tom Craven, Aldo Colombini, Paul Gertner, and many more, all looking way younger than when you last saw them.
The FFFF Book, edited by Charlie Randall, hardback, 325 pages, $50 from H&R Magic Books ($45 prepub).
DISCOVERED -- Illusionology, The Secret Science of Magic, is the latest in the "ology" series from Candlewick Press, Publishers of Rare and Unusual Books, and it's a beauty. This is an oversized book with lots of interactive goodies, including optical illusions, numerous gaffed cards (even a levitating card), two paddles for the paddle trick, flaps, inserts, and many, many secrets. My favorite among the physical features were a popup Pepper's Ghost illusion and a Dematerializer, the latter being a steampunk device for vanishing coins. Purportedly, the book is the work of one Albert D. Schafer, 1915, who seems to have disappeared into his own Dematerializer.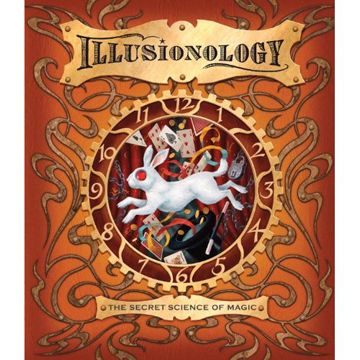 The latest from Candlewick Press.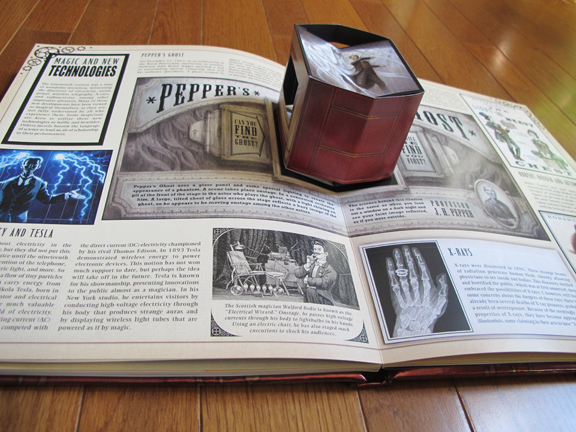 A popup Pepper's Ghost.
Topics include the history of illusion, the science of seeing, secrets of card magic, the power of misdirection, the art of the showman, the science of levitation, the science of disappearing, magic and new technologies the art of body manipulation, the secrets of Harry Houdini, exposing the spirit mediums, and the science of mindreading. More modern touches (post 1915) include QR bar codes; check them out with your QR Code Reader iPhone app and you'll be transported to videos that either show you or teach you even more tricks. The art direction is brilliant, both classy and clever. This is the finest book of its kind since Mark Setteducati's The Magic Show. Ideal for any youngster with a budding interest in magic, but also a joy for old pros to browse through. $19.99, but Amazon will deal.