COMIC BOOK -- Just before MAGIC Live in 2009, Joshua Jay had the misfortune and bad timing to seriously smush his hand in a boating accident, forcing him to miss the convention and requiring some of his buddies to fill in for him at the last moment (Josh's elective event was Card Magic: Ten Great Minutes with a Deck). One of those buddies was Rune Klan, and for me he was the best new talent at a convention loaded with talent. Rune is from Denmark, where he is a very big deal, but you would not peg him as a visitor. He speaks brilliant American English and slang, with no trace of an accent, and he displays the hippest of comic sensibilities. Despite the title of Josh's program, Rune didn't confine himself to card tricks (though he taught some great ones), but broadened his stint to include stand-up comedy, including a couple of killers with old socks.
Rune's dual talents as a close-up whiz and as a comedy club superstar are fully evident in his new book, Rune's World, written by Joshua Jay and published by Vanishing Inc. The first half of the book is primarily a treatise on close-up coin magic. I am not a coin guy, but can appreciate what makes this section unique. In an age where a lot of coin magic begins with a flipper or shell coin, Rune restricts himself to ordinary coins and original moves. More significantly, he routines the tricks into cohesive acts, namely "Huddle Up" (a ten-minute act performed surrounded with ordinary objects), "Strolling Set" (a seven-minute act for table hopping), "Getting Down" (ten minutes of coin magic performed on the floor), "Fantasy to Reality" (eight minutes of coin magic), and "Three Pieces of Silver" (seven minutes with three coins). Amid all these coin wonders were several items that were my cup of tea, including the transposition of a coin and a beer bottle (!) and two of the card tricks Rune taught at MAGIC Live: a sequence of gags called One Back Up, and Full Palm Change, a one-card color change. This first section of the book is copiously illustrated by Tony Dunn.
Ah, but the second half of the book. It's this half that makes the book one of the most remarkable books of this new century, a section devoted completely to stand-up comedy magic. This is first-rate commercial material, from parlor (I should say comedy club) to illusion scale, material that I could picture right now in the acts of an Amazing Johnathan or a Penn and Teller. Much of it is risque, so be advised (In an introduction, author Joshua Jay says, "Onstage, Rune is the show: loud, charismatic, and almost constantly in the middle of a dick joke.") Rune's take on comedy magic is to make himself look like the idiot, so offense is rarely taken. There are goofy, outrageous sight gags, and there is material that will fool people. Adding to the rarity of seeing so much commercial stage magic in a book, this section is illustrated (by Jesse Rubenfeld) like a graphic novel, enabling the reader to "see" how it will look on stage, with Rune explaining what needs explaining in little speech balloons.

No way to treat a dove.
Josh's partner, Andi Gladwin, gets the design credit, and the look and feel make this book a dandy. Although it comes with a dust jacket, it looks better without it, as the hard cover itself has great photos of Rune on both the front and back. Also included, and most valuable, is a DVD that shows Rune performing much of this material for real audiences along with a segment of Josh interviewing Rune at a lecture in England. If you've never seen Rune Klan perform before, you are in for a treat.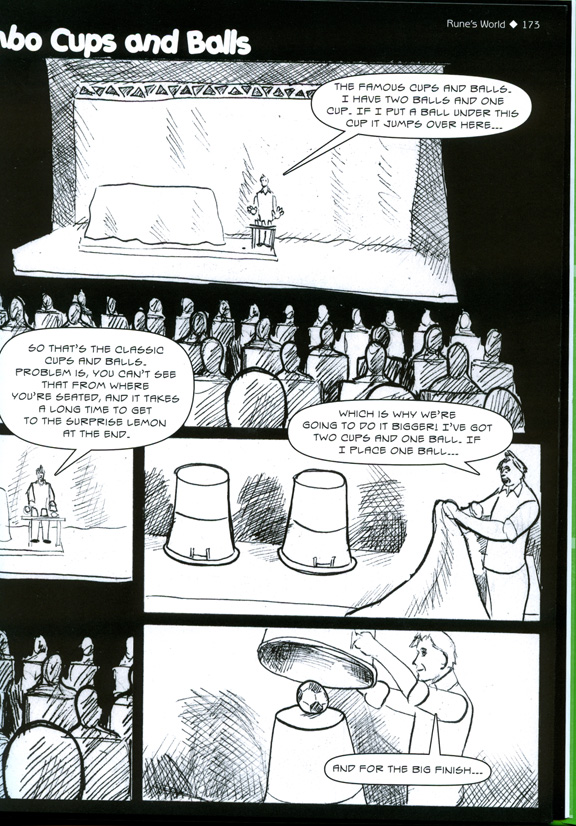 Cups and Balls for the visually impaired.
If I am counting correctly, this is the second big hardback from Vanishing Inc., and the execution and marketing continue to be on the cutting edge. If you go to the Vanishing Inc. web site, you can access video clips of Rune performing, and you can download fifteen pages from the book. You're going to like this! Rune's World, by Joshua Jay, 180 pages, $55 plus postage. Prudes are advised to spend their money elsewhere.