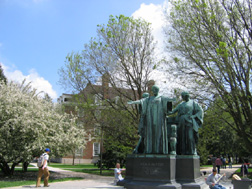 Alma Mater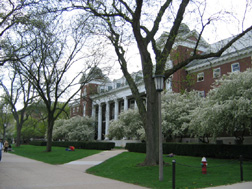 English Building
FRENCH TV -- David Stone's David Stone Live at F.F.F.F. dvd cover does not do him justice. It features a cartoon image of what appears to be a light-haired, middle-age Yank. Instead, David is a dark-haired, good looking young French guy who also happens to know some cool magic.
There are eight major sequences demonstrated and taught, my favorites being the production of a bottle of wine from a balloon and a most deceptive Card on Seat. In that effect, a spectator shuffles the deck and cuts it into four or five piles. He thinks of one of the cards in any pile, then reassembles the deck in any order. The selected card, not forced, winds up under David's butt. It's dead easy. The remaining effects include coin productions, cigarette manipulation, a geek trick with a soda straw, and a card shooting from a deck during a shuffle. In addition to the material itself, the viewer gets a great feel for attending a lecture at Fechter's.
Bonus material includes routines taught at a Hank Lee Conclave, my favorite being "William's Trick," in which 51 cards instantly reverse themselves to a face-up condition, leaving the inserted selected card face down. Again, it's oh so easy.
The dvd is in English with French subtitles and runs over 80 minutes. $29.95 from your favorite dealer.
THE GREAT VANISHING MOUSE CAGE -- Way back at the turn of the millennium, I contributed a poem to Genii (still online here) that described a party at the Magic Castle. One of the cantos detailed a heated debate on which trick should be cited as the world's greatest. The winner was Billy McComb's Vanishing Bird Cage. It is a wonderful trick, and now you can do it too for $1500 (and, I suggest, about as many years of practice as Billy has put in). I first encountered this signature item for sale at Hank Lee's web site, where Hank also offers a much less expensive dvd by Billy on how to do the thing. Be like Bill!
April 2004
Although this sheet is appearing later and later each month, I intentionally waited to the dregs of April so that I could report on the April 24 Central Illinois Magic Get-Together. A fine time was had at the home of my college alma mater. Other musings this month include a surprise dvd and a wonderful web site makeover. All this and the world's greatest magic trick is for sale.


Assembly Hall
BACK TO SCHOOL -- The photos gracing this edition are of the University of Illinois, where I matriculated once in a prior century. There were a lot of physics tests and a lot of Fitzgerald and Faulkner, and, thanks to somebody nice in the library acquisitions staff, cool books in the library such as Stars of Magic and Greater Magic. I revisited the Urbana-Champaign campus at the end of April to find it in full flower. Roger Ebert was in town hosting a mini film festival, but the true in crowd was there for the 27th Annual Central Illinois Magic Get-Together. The draw for the event was Chicago's Steve Draun, who conducted a Friday night card workshop. (Fairly intense: I cringed as others were easily following the instructor's nuances on push-through shuffles, the Midnight Shift, and the like, hoping I wouldn't be called on. We never escape the classroom!) Later the group adjourned to the much more relaxing Esquire Lounge, where I thoroughly enjoyed the company of Steve Draun, Don England, and a couple of local young masters of the craft. Draun's uncanny skill and England's boldness were joys to witness. The next day, Steve was also a lecturer for the formal one-day convention, teaching among other things a killer card control almost as easy as Asher's "Losing Control" yet even more deceptive and capable of repetition. (It is scheduled to appear in Genii some day.) If you are new to Steve Draun's material, I recommend his fine book of 40 items, Secrets Draun from Underground, from and by Richard Kaufman. Check into Steve's world at SteveDraun.com. Meanwhile, thanks to Dennis Reed and Ring 236 for a fun weekend.
IN THE ZONE -- Possibly the most successful, and definitely the most entertaining, magician working outside Las Vegas is Bill Malone. In case you haven't checked in lately, Bill has upgraded his web site to what may be the best web showcase around. The Flash opening takes you into the Malone Zone, where Bill, as "the CEO of Comedy Magic," is presented as number one choice for corporate entertainment. The multi-layered site takes you into Bill's tv appearances, his impressive client list, his magic bar at Boca, and his gift shop. You can download a full-color pdf brochure, you can watch a video clip, you can do an interactive magic trick. I've read much advice on how to sell your act, and this web site is the best example I've seen of that advice put into play. (Of course, it helps to sell yourself as the best in the business if you are the best in the business.) Whatever, it's a wonderful case study that illustrates how to tell your clients what you can offer them. Step into the zone at Bill Ma-lone.